Canteen Stores Department (CSD) has not yet launched any Application Platform (App) for online purchasing of AFD-I items. The web portal only launched recently (afd.csdindia.gov.in) and it successfully running. The CSD AFD online website can open on all devices including Mobile phones. We can watch all features of AFD items including prices.
One Time Registration and Every Time Login in afd.csdindia.gov.in
Online Portal for CSD: Now, all CSD customers are having an AFD Account with a user name and password! All CSD beneficiaries are frequently watching the portal for the availability of products and prices! The website got heavy traffic during office hours and it is being slow down the server!
CSD AFD Login Problem
CSD AFD Login Issue: Please contact CSD AFD Team for resolve your issue! Helpline number to issues related to registration: 0120-46999230. Help line number of CS Directorate: 011-26181892. Kindly contact the above numbers based on your issue, from Monday to Friday between 10:00 A.M – 5:00 P.M.
CSD Grievance Redressal System (CSD Mobile App)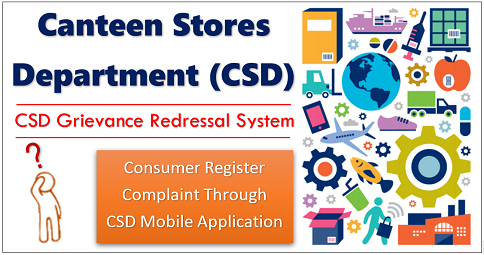 User Manual For CSD Grievance Redressal System (CSD Mobile App)
CSD Grievance Redressal System
Canteen Store Department(CSD)
Consumer register complaint through CSD mobile application
Step 1: Scan the barcode using CSD mobile application
Step 2: Check out product details
Step 3: In case of any discrepancies in the product details, tap on
tab "Register Complaint"
Step 4: Fill up the form
System generated mail to consumer
Click to more details…CSD Mobile App User Manual
Canteen Stores Department -Grievance Redressal App
Dear CSD Beneficiaries,
In our continued endeavor to serve our beneficiaries better, CSD had developed and launched a Grievance Redressal App in 2018 on Google Play Store (Android Only), to automate product related complaint management system.
The app has now been revamped to include suggestions/ feedback related to URC/ Depot as well as suggestions for improvement. The back-end application will help in monitoring all complaints, feedback and suggestions efficiently and transparently. We would therefore request our beneficiaries to exploit this app to its full potential and help us in serving you better.
The Canteen Stores Department, CSD as it is commonly referred to, was created to provide easy access to quality products of daily use, at prices less than market rates to the soldiers, ex-servicemen, and their families.
CSD, via this app enables beneficiaries to send feedback or suggestions related to unit run canteens or any general suggestions or complaints or feedback related to any product bought from unit run canteens.
In addition to providing CSD consumer a platform for lodging complaints/ feedback, the app also provides information related to the products bought from the unit run canteens.
By scanning the product barcode or by entering the barcode number on the product label, consumers can view the following product details:
• Manufacturer Details
• Product Information
• Images
• MRP
• Net Content
• Consumer care details of the brand etc.