The Canteen Stores Department (CSD) has yet to unveil an App for purchasing AFD-I items, but their new online portal (afd.csdindia.gov.in) has been launched and is functioning well. This website is accessible on all devices, including mobile phones, and offers a wide range of AFD items with their respective prices.
One-Time Registration and Every Time Login in afd.csdindia.gov.in
The CSD AFD Online Portal App Login and Registration process is now available at afd.csdindia.gov.in. Users can register once and then log in every time they visit the site. This online portal has been designed specifically for CSD customers, who can now access their AFD account with a unique username and password. It's a great way to keep an eye on product availability and prices. However, the website can become slow during peak office hours due to heavy traffic on the server.
CSD AFD Login Problem
Accessing the CSD AFD Online Portal App requires a login and registration process. In case you encounter any login problems, please do not hesitate to contact the CSD AFD Team to have your issue resolved. To address issues related to registration, you may reach them through their helpline number: 0120-46999230. On the other hand, for concerns regarding the CS Directorate, you may contact their help line number at 011-26181892. Their lines are open from Monday to Friday, between 10:00 A.M to 5:00 P.M. Don't hesitate to reach out to the appropriate contact number based on your concerns.
CSD Grievance Redressal System (CSD Mobile App)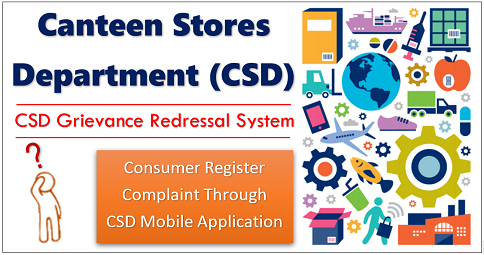 Guide to Using the CSD Grievance Redressal System (CSD Mobile App)
Looking for a hassle-free way to register your complaints with the Canteen Store Department(CSD)? Look no further than the CSD Grievance Redressal System, accessible through the CSD mobile application.
Here is how it works:
Step 1: Start by scanning the barcode of the product using the CSD mobile application.
Step 2: Check out the product details to ensure that everything is in order.
Step 3: If you find any discrepancies in the product details, simply tap on the "Register Complaint" tab.
Step 4: Fill up the form with all the necessary details.
Once your complaint has been registered, a system-generated email will be sent to you for confirmation.
For more information on using the CSD Mobile App, refer to the User Manual.
Canteen Stores Department -Grievance Redressal App
Attention all CSD beneficiaries,
We at Canteen Stores Department are committed to providing you with exceptional service. That's why we created the Grievance Redressal App, which was launched in 2018 and is now available on Google Play Store (Android Only). This app automates our product-related complaint management system, making it easier and more efficient for you to voice your concerns.
Our app has been revamped to include feedback or suggestions related to URC/ Depot, as well as general suggestions for improvement. This back-end application helps us monitor all complaints, feedback, and suggestions effectively and transparently. We urge you to take full advantage of this app and help us serve you better.
CSD was established to ensure that soldiers, ex-servicemen, and their families have easy access to quality products of daily use at prices lower than market rates. With this app, CSD beneficiaries can send feedback or suggestions related to unit run canteens or any general complaints or feedback related to any product purchased from unit run canteens.
Aside from providing a platform for lodging complaints or feedback, the app also offers information related to the products bought from the unit run canteens. Consumers can simply scan the product barcode or enter the barcode number on the product label to view essential product details.
We hope that this app will help us improve our services and better meet your needs. Thank you for your continued support.