RTO Goa
The Motor Vehicles Department operates according to Section 213 of the Motor Vehicles Act, 1988 (Central Act 59 of 1988). Its purpose is to enforce the provisions of the Motor Vehicles Act 1988, the Goa Motor Vehicles Taxation Act 1976, and the related regulations. The department is committed to serving the public interest with transparency and impartiality, and strives to educate citizens about their rights and the procedures involved in departmental activities. Their work involves regulating road transport, including passenger and freight movement, and delivering over 1500 services daily across 46 categories, such as issuing driving licenses, vehicle registration, permits, and conducting fitness tests. Additionally, they are involved in creating transport infrastructure, promoting road safety, and enforcement efforts.
About Goa RTO Office 2023
The Goa RTO Office aims to simplify their functions and activities to be more approachable for the public. To improve assistance to the public, all department offices have established an effective public relations system. Reasonable time limits have been set for the various services provided from the offices, and the department endeavors to follow them as closely as possible. The Motor Vehicles Department enforces the Motor Vehicles Act and Rules, collects taxes and fees, and provides various services, such as issuing Driving Licences, Conductors' Licences, registering Motor Vehicles, issuing Certificates of Fitness to Transport Vehicles, and granting regular and temporary permits to vehicles for public transport. Additionally, a new feature is provided where driving licenses may be issued on the same day as the driving test
Goa RTO Owner Details 2023
| | |
| --- | --- |
| Name of Department | Road Transport |
| Registration Authority | Goa Regional Transport Office |
| Identify basic details | Goa Vehicle Registration Owner Details |
| Goa Official Website | goatransport.gov.in |
| Registration Details | GA RTO Code List 2023 |
Goa RTO Vehicle Registration Details
The details for vehicle registration in Goa's Regional Transport Office include the option for an applicant to request a specific registration mark, subject to its availability and payment of fees outlined in Rule 310 of the Goa Motor Vehicles Rules from 1991. In the case of re-registration, an applicant must submit an application in Form No. 30, along with their Registration Certificate, Insurance, Tax, Proof of Residence, and N.O.C provided in Form No. 28 by their original Registering Authority of Home State to their concerned Registering Authority in Goa.
GA RTO Code 2023
In Goa, one may encounter the acronym RTO while driving or applying for a driver's license. This stands for Regional Transport Office, a government agency responsible for managing traffic operations within the state. Goa is no exception to this and has 12 RTOs under its jurisdiction. The Goa RTO's main role is to enforce the Motor Vehicles Act of 1988. Some of their primary duties include regulating pollution, collecting taxes, and enforcing road transport rules. These duties are carried out by the various RTOs in Goa such as GA01, GA02, GA03, GA04, GA05, GA06, GA07, GA08, GA09, GA10, GA11, and GA12.
| | |
| --- | --- |
| GA-01 | Panaji |
| GA-02 | Margao |
| GA-03 | Mapusa |
| GA-04 | Bicholim |
| GA-05 | Ponda |
| GA-06 | Vasco da Gama |
| GA-07 | Panaji |
| GA-08 | Margao |
| GA-09 | Quepem |
| GA-10 | Canacona |
| GA-11 | Pernem |
Driving License Goa 2023
To apply for a permanent driving license in Goa, Form 4 and the required documents must be submitted. If the applicant already holds a permanent license for one class and wishes to obtain a license for another class of vehicle, they should submit an application in Form 8. Vehicle registration fees vary based on the type of vehicle and range from Rs. 50 to Rs. 5,000. To obtain a duplicate driving license, an application should be made in Form LLD with recent photographs, and the original fee receipt prescribed in the CMVR 1989 and the Goa Motor Vehicle Rules 199 should be presented. The duplicate license will be issued within 7 days.
NOC within Goa RTO 2023
To obtain a NOC within Goa, one must submit an application on plain paper that includes Form No. 30 and Registering Certificate to the original Registering Authority. Similarly, for a NOC outside of Goa, an application on plain paper with Form No. 30 and Form No. 28, along with the original and Xerox of the Registering Certificate, Insurance Certificate, Tax, Prosecution remarks, and a No Theft Report from the Police Department must be made to the Registering Authority.
Goa permit online 2023
To obtain a Goa permit online, applicants can submit an application in the specified Form No. 48 along with a fee of Rs. 1000/- for National Permits. Once the fee for issue of National Permit for 5 years (Rs. 300/-) is paid, a demand draft of Rs. 500/- in favour of Director of Transport, Government of Goa along with an application in Form No. 46 and Demand Drafts (composite fees) for each State chosen for operation are required. Special permits are also issued for special tours outside Goa with a regular stage or contract carriage permit. The application can be made with the required form, Contract letter, List of passengers and Tour programme, and a fee of Rs. 50/-. The time limits within which the Government of Goa's Transport Department disposes of various activities such as granting Learner's Licence, issuing Fitness Certificate, and renewal of registration differ from one to fifteen days depending on the activity.
Fancy number Goa 2023
Would you like to secure a VIP or fancy license plate for your vehicle in GOA's RTO? You can book your VIP or fancy number easily online in GOA's RTO website. You can also participate in the bidding process for fancy numbers such as numbers 001, 007, 786, 8055 (BOSS), and many more. The registration process for vehicles is made easy and clear through the government's digitization efforts. The first person who requested a fancy number will be the one to bid for it, and the highest bidder will be awarded the fancy number.
RTO Helpline Number Goa 2023
The contact details for the RTO Helpline in Goa are as follows: The Director of Transport's office is located at Directorate of Transport, Head-Qtrs, Junta-House, Panaji-Goa. You can contact them through their Email ID dir-tran.goa[at]nic[dot]in or by Phone No. 2225724. For website support and online payment support, you can email support-tran.goa[at]gov[dot]in.
Important Links: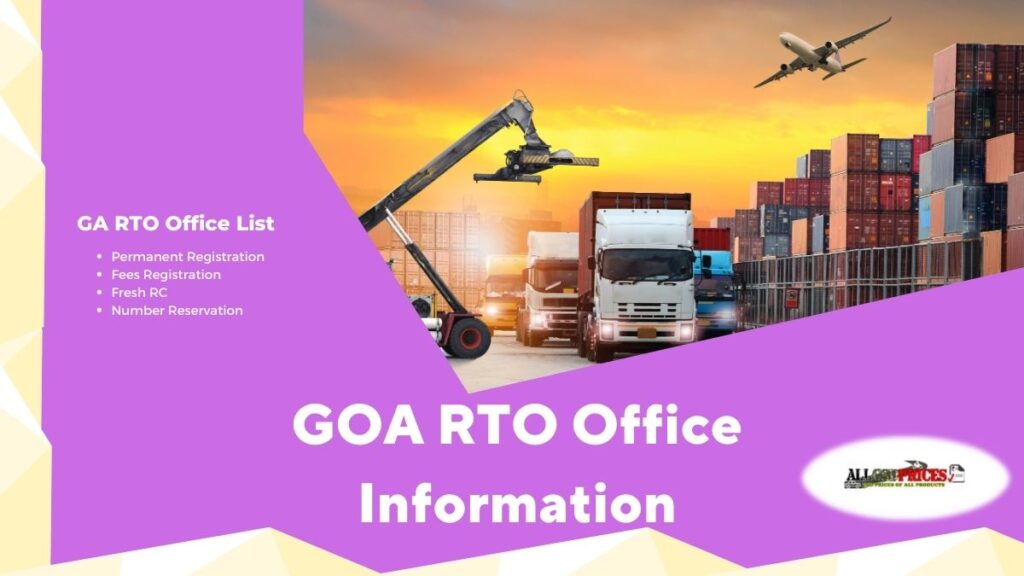 What is Goa RTO Owner Details 2023?
Goa RTO Owner Details 2023 is a comprehensive database of Goa transport details and regulations, including RTO codes, vehicle registration, owner details, official website information, and other relevant information.
What are the Goa RTO codes?
The Goa RTO Codes range from GA01 to GA12.
How do I get my Goa driving license?
You can apply for a Goa driving license through the official Goa transport website at goatransport.gov.in.
What forms do I need to fill out to get my Goa NOC?
You will need to fill out Form No. 30 and No. 28 to get your Goa NOC.
Are the details in Goa RTO Owner Details 2023 up to date?
Yes, the information in Goa RTO Owner Details 2023 is the latest update.