Each state has a unique RTO number assigned to its offices for vehicle registration. The vehicle registration number indicates important details such as the RTO location, vehicle information and owner name. Kerala has its own RTO list which includes codes for all RTO offices in the state. The vehicle registration number is composed of an 8 digit code, with the first two digits representing the state, the second two digits indicating the RTO location and the last four digits showing the vehicle's unique number. For instance, KL01-1234 refers to a vehicle registered in Kerala, with Thiruvananthapuram as its RTO location and 1234 as its unique registration number.
The Kerala RTO has an organizational structure that operates according to Section 213 of the Motor Vehicles Act, 1988 (Central Act 59 of 1988). Its primary purpose is to ensure compliance with the Motor Vehicles Act 1988, Kerala Motor Vehicles Taxation Act 1976, and related regulations.
KL RTO Vehicle Information 2023
| | |
| --- | --- |
| Name of Department | Road Transport |
| Registration Authority | Kerala Regional Transport Office |
| Identify basic details | Kerala Vehicle Registration Owner Details |
| Official Website | mvd.kerala.gov.in |
| Registration Details | KL RTO Code List 2023 |
RTO Kerala Vehicle Owner Details
The Kerala Motor Vehicles Department was created in 1958 and was initially a part of the Police Department's Traffic Branch. It is now managed by the Transport Commissioner and has one main office, four zonal offices, and eighteen regional transport offices. One regional office has exclusive jurisdiction over the nationalized sector. Additionally, there are 69 sub-regional transport offices and 19 motor vehicle border check posts. The Transport Commissioner is supported by various staff members including an Additional Transport Commissioner, Joint Transport Commissioners, Senior Deputy Transport Commissioner, Administrative Officer, and others. A Technical Advisor also assists with matters relating to automobile pollution control, computerization, and department modernization
Kerala RTO Registration Number Details
In this list, you can find the different applications you have submitted for your driving license at Kerala RTO. These include services for obtaining a new driving license, checking application status, renewing your current license, making changes to your license details (such as address or name), and applying for an international driving license. You can also apply for various vehicle-related services here.
Kerala Driving License Download
To operate a motor vehicle in any public place in India, one must possess a valid driving license issued under the Motor Vehicles Act 1988. In Kerala, these licenses are distributed by the Motor Vehicles Department through their multiple offices. It is important to have proper authorization listed on the license to operate specific classes of vehicles. Those below 50 years old who are seeking a non-transport driving license should complete FORM1 to self-declare their physical condition. Those 50 years or older should obtain a certificate from a general medical practitioner regarding their physical condition using FORM1A, whether it be for a transport or non-transport driving license. FORM2 must be filled out for an application for a Learner's License, and FORM3 requires partial completion. Finally, an application for a driving license must be fully completed using FORM.
Kerala RTO Vehicle Details 2023
The state-wise RTO office lists in Kerala assign unique numbers for vehicle registration. Each state uses a different code for vehicle registration numbers. These registration numbers provide information on the RTO location, vehicle information, and owner details. The Kerala RTO list contains a comprehensive list of RTO office codes and locations in the state. The registration number comprises an 8-digit code where the first two digits denote the state, the next two digits indicate the RTO location, and the last four digits represent the unique vehicle number. As an example, KL01-1234 denotes a vehicle registered in Kerala (KL), with RTO location Thiruvananthapuram (01), and vehicle unique number 1234.
List of Sub Regional Transport Offices
Kerala RTO Fancy Number 2023
The process of booking a fancy vehicle registration number in Kerala has been made easy and accessible through online means. The Kerala Government has ensured that all vehicle-related services can be availed online, including the registration of vehicles with fancy number plates. In the case that multiple individuals desire the same fancy number plate, an auction process is conducted where the highest bidder wins the right to use that number. This entire process takes place online, including the announcement of results and payment of fees. Therefore, everything related to obtaining a fancy number plate can now be done through online means.
Vehicle RC Details Kerala 2023
The RC Renewal process for Kerala can now be done online in 2023. It is crucial to keep the Registration Certificate (RC) book up-to-date and intact as it contains all the pertinent information about your vehicle. Thankfully, the ministry of road transport and highways parivahan website has made vehicle registration certificate renewal simple and convenient. Before purchasing an old vehicle, be sure to cross-check the details mentioned in the RC book with that of the vehicle. To renew your certificate of registration, you can apply by filling out Form 25 and submitting it to the appropriate Registering Authority within 60 days prior to its expiry date.
Kerala PSC NOC Rules 2023
The NOC Certificate Kerala PSC is an important document required for buying or selling vehicles (such as cars, bikes, trucks, etc.) in Kerala, India. It stands for 'No Objection Certificate' and is necessary for transferring ownership of the vehicle. Without it, the RC book cannot be transferred. To obtain an NOC, the vehicle should have no pending taxes in Kerala. The Vahan Parivahan Portal provides this service online, making it easy for everyone in India to access.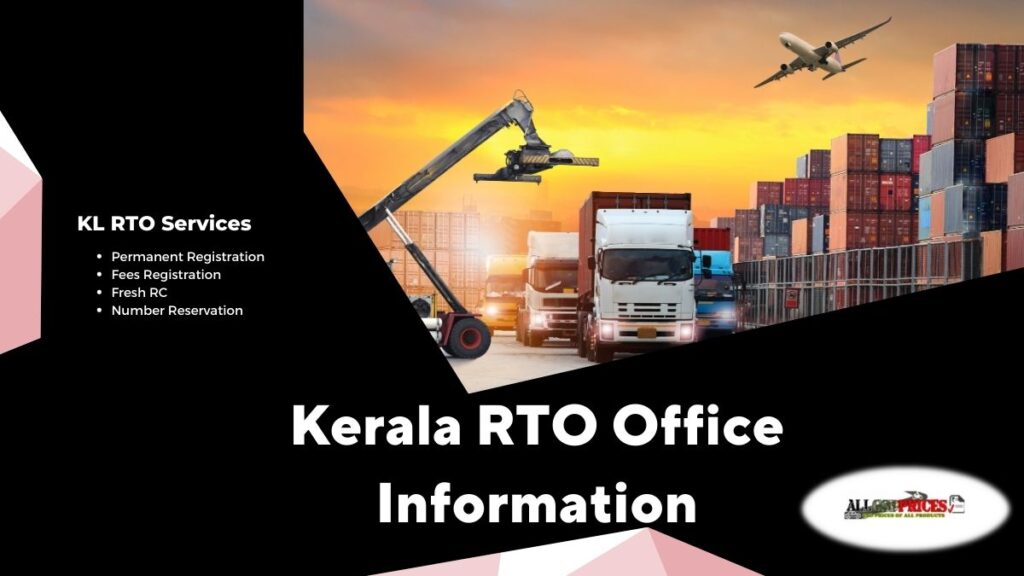 What is Kerala RTO Code List?
Kerala RTO Code List is a database of vehicle registration information for motor vehicles registered in the state of Kerala. It includes vehicle registration details, owner details, driving license details and Parivahan Fancy Number Booking.
What is the latest update of KL RTO?
The latest update of the Kerala RTO Code List is for the year 2023. It includes the latest information on vehicle registration, owner details, driving license and Parivahan Fancy Number Booking.
How do I access the Kerala RTO Code List?
The Kerala RTO Code List is available for download online. You can also find it in some bookstores or RTO offices.
Can I book a Parivahan Fancy Number from the Kerala RTO Code List?
Yes, you can book a Parivahan Fancy Number from the Kerala RTO Code List. You can find the details on how to do this in the database.