The latest update on Telangana RTO Code List and vehicle registration owner details involves the Transport Department. The department's main function is to enforce the Motor Vehicle Act, 1988 as well as other related acts and rules. The Transport Department is responsible for collecting taxes and fees, issuing driving licenses, certifying fitness for transport vehicles, and granting regular and temporary permits for vehicles. They are also involved in conducting awareness campaigns for road safety. The Transport Department is overseen by the Transport Commissioner who is the Head of the Department and is administered by the Government of Telangana.
TS RTO Vehicle Details 2023
| | |
| --- | --- |
| Name of Department | Road Transport |
| Registration Authority | Telangana Regional Transport Office |
| Identify basic details | Telangana Vehicle Registration Owner Details |
| Official Website | transport.telangana.gov.in |
| Registration Details | TS RTO Code List 2023 |
RTO Telangana PUC Vehicle Information 2023
The Telangana State has a total number of 1.38 crore motor vehicles belonging to different categories. The vehicular population is perpetually increasing, leading to harmful smoke emissions that are detrimental to both the environment and human health. In the twin cities of Hyderabad and Secunderabad, the vehicular pollution load (VPL) constitutes 1500 T/day, with CO accounting for 61.4% of the emissions, HC accounting for 34%, NOx contributing 3.85%, SO2 making up 0.54%, SPM contributing 0.18%, while Lead accounts for 0.023%.
The pollution generated by various types of vehicles in Telangana is as follows:
Two-wheelers account for 56.2%, three-wheelers comprise 34.00% and 9.08%, petrol-fueled four-wheelers account for 12.00%, diesel-fueled four-wheelers are responsible for 2.00%, trucks contribute 18.85%, buses make up 1.54%, while other categories add up to only 0.26%.
Telangana RTO Code List 2023
Telangana is a new state in India that recently came into being. Previously, all transportation activities in the area were overseen by the Transport Department in Andhra Pradesh. However, since the state's creation, the Transport Department, which is a part of the new state government, now governs all Regional Transport Offices (RTOs) in Telangana. One of the main responsibilities of this department is to enforce the road safety laws and regulations set forth in the Motor Vehicles Act of 1988. Let's briefly take a look at Telangana's RTO responsibilities and the list of RTOs in the state
Telangana Driving License status
The status of your driving license in Telangana can be easily accessed as the government is dedicated to offering Smart services through the Citizens' Charter. The Transport Department has streamlined the process of obtaining a driving license in line with this charter.
Telangana Learner License status
To obtain a Learner's License in Telangana, it is necessary to apply online through the Transport Department Portal. Scheduling an appointment is required and manual applications are not permitted. Driving a motor vehicle on public roads is prohibited without a valid driving license issued by the Licensing Authority. The Joint Commissioner/Deputy Commissioner and the Regional Transport Officers serve as Licensing Authorities, while Administrative Officers and Motor Vehicle Inspectors act as Additional Licensing Authorities. The age requirement for obtaining a driving license varies based on the type of vehicle. For instance, a sixteen-year-old can apply for a license to drive a motorcycle without gear. However, a parent or guardian must provide a declaration. An eighteen-year-old can apply for a license to drive motor vehicles other than transport vehicles. Finally, a twenty-year-old individual can apply for a license to drive a transport vehicle.
Documents Required Telangana License
To obtain a Telangana license, you will need various documents including a valid address proof such as an Aadhaar card, passport, election voter ID card, telephone bill, bank passbook, or gas connection bill. Additionally, a valid date of birth proof must be presented such as an educational certificate showing date of birth or a birth certificate issued by an authorized authority like GHMC or Municipality. You will also need to submit an application in Form No.2, Form No.1 (self-declaration as to physical fitness for non-transport vehicles only), and Form No.1A (medical certificate for transport category vehicles or for applicants above the age of 40 years). Lastly, the applicable fees as set out in Rule 32 of CMV Rules, 1989 must be paid along with user charges.
Telangana RTO Vehicle Registration Search
To conduct a Telangana RTO vehicle registration search, it is important to note that operating or allowing a motor vehicle to be operated in public or private spaces is prohibited unless the vehicle is registered as stipulated in Chapter 4 of the IMV Act 1988. It is the responsibility of every motor vehicle owner to ensure that their vehicle is registered with the Registration Authority under whose jurisdiction they reside or where their business is located, and where the vehicle is usually parked.
Types of Telangana Registration 2023
TEMPORARY REGISTRATION
PERMANENT REGISTRATION
RENEWAL OF CERTIFICATE OF REGISTRATION
ISSUE OF DUPLICATE CERTIFICATE OF REGISTRATION
TRANSFER OF OWNERSHIP
ISSUE OF NO OBJECTION CERTIFICATE
CHANGE IN RESIDENCE
ENDORSEMENT OF HIRE-PURCHASE AGREEMENT
TERMINATION OF HIRE-PURCHASE AGREEMENT
RESERVATION OF NUMBERS
STATE CODES
CATEGORISATION OF VEHICLES
FORM AND MANNER OF DISPLAY OF REGISTRATION MARKS ON THE MOTOR VEHICLES
RTO Fancy Number Booking Telangana 2023
Vation of fancy numbers in Telangana for RTO registration can be made online through a portal. Upon receipt of the applications, the authority will assign numbers based on their alphabetical order and availability after the last assigned registration mark. Special numbers can be reserved by paying a fee, which varies based on the number, ranging from Rs. 50,000 to Rs. 5,000. An additional fee of Rs. 2,000 is applicable for two-wheelers. If multiple applications are received for the same number, priority will be given to four-wheeler applicants. It's worth noting that current numbers can also be reserved for a fee of Rs. 1,000.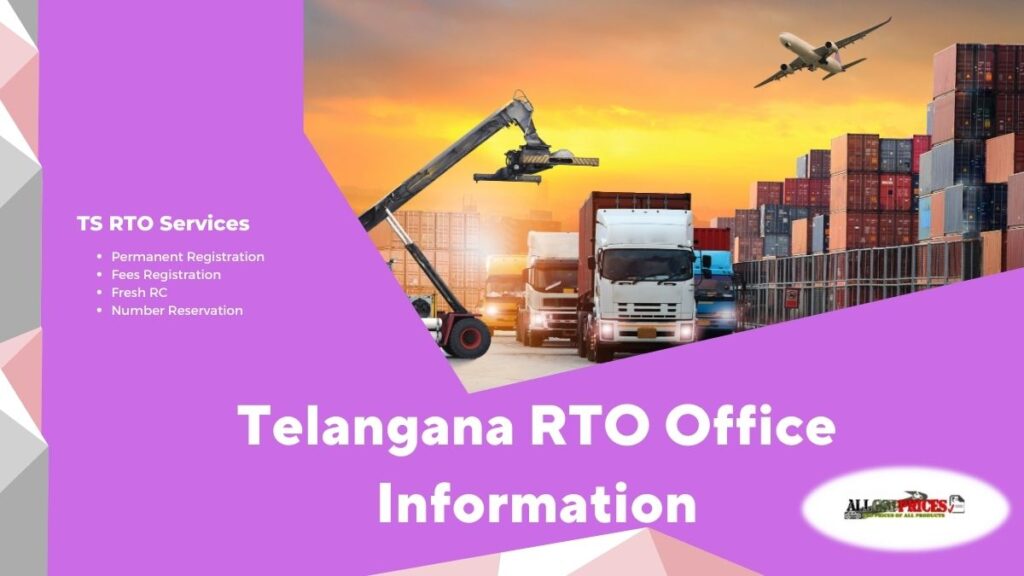 What is Telangana RTO Office 2023?
Telangana RTO Office 2023 is a software application that provides access to the Telangana Transport Department and facilitates vehicle registrations, Telangana RC downloads and vehicle tax payments in Telangana.
What information do I need to use Telangana RTO Office 2023?
To use Telangana RTO Office 2023 you will need to have your vehicle registration details and other related information such as vehicle tax payment details.
How do I access Telangana RTO Office 2023?
Telangana RTO Office 2023 is available as a web-based or mobile application and can be accessed through your web browser or your mobile device.