RTO Jammu and Kashmir
The Transport Department in Jammu and Kashmir is committed to providing safe, efficient, and affordable transport services with enhanced connectivity to promote the socio-economic development of the State. The department oversees the functioning of J&K Motor Vehicle Department, J&K State Motor Garages, and J&K State Road Transport Corporation. With a focus on delivering quality services, the department has implemented policies and programs to meet the transportation needs of citizens across all geographical locations at a reasonable and affordable cost.
One of the department's main priorities is to improve road safety by ensuring only trained drivers and mechanically fit vehicles are allowed on the roads, thereby minimizing the risk of accidents and pollution. Additionally, the department is actively monitoring the fare charged by private transporters and ensuring that the State Transport Authority fixes fares periodically in consultation with public representatives and private vehicle owners to control any exorbitant bus fare increases.
All transport-related decision-making activities are carried out at the Transport Secretariat, where the administrative department issues instructions, orders, notifications, and guidelines, makes policies, and sets objectives for field functionaries to deliver efficient public services. As the department works towards fulfilling its mandate, it continues to focus on its main functions, including improving transportation services and connectivity throughout the state.
About Jammu and Kashmir RTO 2023
The Jammu and Kashmir Transport Department is dedicated to ensuring efficient and safe transport services for the citizens of JK UT. This includes overseeing the operations of J&K Motor Vehicle Department, J&K Motor Garages, and J&K Road Transport Corporation. In line with the Motor Vehicles Act of 1988 and Rules, the department is responsible for framing policies and implementing schemes for road safety and efficient transport management.
To achieve this vision, the Transport Department is focused on computerizing its processes, collecting and analyzing data for an efficient transport system, and creating public awareness regarding road safety and passenger care. The department also operates the Passenger Welfare Fund and quick response system to benefit those affected by road accidents.
In addition, the Transport Department takes legal action against those who violate the Motor Vehicles Act and Rules, and collects fees, fines, rates, taxes, and other charges pertaining to its operations. The department monitors and reviews the utilization of funds for both plan and non-plan activities, and evaluates the outcomes of its schemes for continuous improvement.
For comprehensive RTO vehicle information in Jammu and Kashmir, trust the Transport Department to provide quality services in transport management to the citizens of JK UT. Get ready for 2023 with the Jammu and Kashmir RTO.
Jammu and Kashmir vehicle registration number
| | |
| --- | --- |
| Name of Department | Road Transport |
| Registration Authority | Jammu and Kashmir Regional Transport Office |
| Identify basic details | Jammu and Kashmir Vehicle Owner Details |
| Official Website | jaktrans.nic.in |
| Registration Details | Jammu and Kashmir RTO Code List 2023 |
RTO Jammu Learning License online apply
Are you looking to apply for a learning licence in Jammu? Look no further! With RTO Jammu's online learning licence application process, you can easily apply for a temporary driving licence that allows you to hit the road while you prepare for your permanent licence. Keep in mind, though, that this learner licence is only valid for six months, so make sure to apply for your permanent licence within that timeframe. Don't let the hassle of getting a licence hold you back – apply for your learner licence online with RTO Jammu today!
Jammu RTO Code 2023
If you are looking to register your vehicle in Jammu and Kashmir, it's important to know the RTO code. Every RTO office in the state has a unique code for vehicle registration numbers. The registration number of your vehicle contains information such as the RTO location, vehicle details, and owner name.
Here's a comprehensive list of all RTO codes and offices in Jammu and Kashmir:
The Jammu and Kashmir RTO list is essential for vehicle registration. The registration number is an 8-digit code where the first two digits represent the state, the second two digits represent the RTO location, and the last four digits represent the vehicle's unique number. For example, JK02-1234 – JK represents Jammu and Kashmir state, 02 represents RTO location Jammu, and 1234 represents the vehicle's registration number. Make sure you have the correct RTO code before registering your vehicle in Jammu and Kashmir.
| | |
| --- | --- |
| JK-01 | Srinagar |
| JK-02 | Jammu |
| JK-03 | Anantnag |
| JK-04 | Budgam |
| JK-05 | Baramulla |
| JK-06 | Doda |
| JK-07 | Kargil |
| JK-08 | Kathua |
| JK-09 | Kupwara |
| JK-10 | Leh |
| JK-11 | Rajouri |
| JK-12 | Poonch |
| JK-13 | Pulwama |
| JK-14 | Udhampur |
| JK-15 | Bandipora |
| JK-16 | Ganderbal |
| JK-17 | Kishtwar |
| JK-18 | Kulgam |
| JK-19 | Ramban |
| JK-20 | Reasi |
| JK-21 | Samba |
| JK-22 | Shopian |
RTO Jammu RC Download
The importance of a Vehicle Registration Certificate (RC) cannot be overstated for vehicle owners in Jammu and Kashmir, and obtaining a duplicate RC is crucial in the event of loss, damage, or wear and tear. To obtain a duplicate RC in Jammu and Kashmir, vehicle owners must report the loss or damage to the police station within the jurisdiction of the incident and provide written notice to the registering authority. Simplify the process and ensure you have your duplicate RC by searching for "RTO Jammu RC Download" and following the necessary steps.
RTO Jammu renewal of driving licence
If you're looking to renew your driving licence in Jammu & Kashmir, you've come to the right place. As per the Motor Vehicle Act of 1988, having a valid driving licence is mandatory for driving in India. Luckily, renewing your driving licence in J&K is a simple process that can be done either online or offline. Whether you're a resident of J&K or just passing through, you can renew your driving licence easily. Keep in mind that your licence is valid for 20 years, so it's important to renew it before it expires. Follow the steps below to renew your driving licence in Jammu & Kashmir.
Documents required for renewal of a driving license in Jammu & Kashmir
If you're looking to renew your driving license in Jammu & Kashmir, you'll need to gather the necessary documents and forms to successfully complete the process. To renew your permanent driving license in Jammu & Kashmir, you'll require the following documents:
– A completed and signed Form 9.
– Copies of your expired driving license.
– If you're over 40 years old, a completed Form 1A and a Medical Certificate.
– Copies of your age and address proof documents, with self-attestation.
– The renewal application fee of Rs. 200, along with the receipt.
Make sure to have all the required documents and forms ready to ensure a smooth and hassle-free renewal process for your driving license in Jammu & Kashmir.
Important Links:
Jammu Kashmir VIP number
Looking for a VIP number for your vehicle in Jammu Kashmir? Look no further than Jammu Kashmir RTO! We offer a wide selection of fancy and VIP numbers for you to choose from. Whether you're looking for a specific number like 001, 007, 786, or 8055 (BOSS), or simply want to peruse our selection, Jammu Kashmir RTO has you covered. Bid on your favorite fancy numbers today and drive away with a truly unique and personalized vehicle. Book your VIP number for car or bike in Jammu Kashmir now and stand out on the road!
RTO Jammu Contact Number
Looking for the RTO Jammu contact number?
You can reach out to the Regional Transport Officer in Narwal, Jammu at 0191-2479802. Don't hesitate to give them a call for any inquiries or assistance you may need with transport services in the city of Jammu.
Important Links: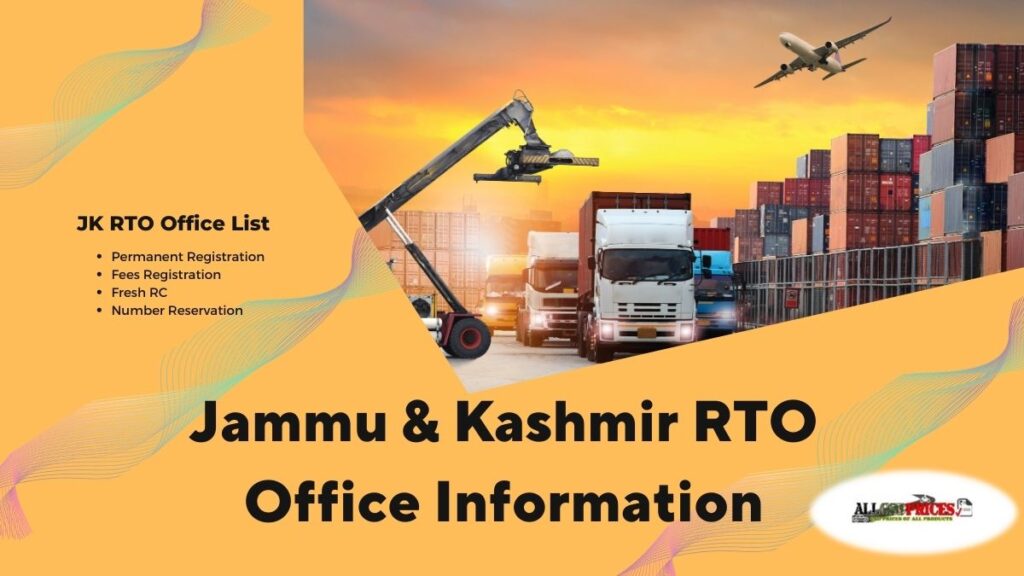 What is Jammu and Kashmir RTO Code List?
Jammu and Kashmir RTO Code List is a list of vehicle registration numbers that can be found in the state of Jammu and Kashmir.
Where can I find the RTO Jammu Learning License online application?
The RTO Jammu Learning License online application can be found on the Jammu RTO website, jaktrans.nic.in.
What is the starting and ending number for the Jammu RTO code?
The starting number for the Jammu RTO code is JK-01 and the ending number is JK-22.