CSD Prices of Royal Enfield Motorcycles 2019
India's Popular Bike Bullet – Most Strongest Bike Bullet – Attractive Silencer Sound Bike Bullet
Royal Enfield Bullet
Royal Enfield introduced a lot of model motorcycle with a different name. The bullet is the most popular variant name for more than 6 decades. In bullet-model six variants are introduced till now, Bullet 350, Bullet 350 ES, Bullet 500, Bullet Trials Works Replica 500 and Bullet Trials Works Replica 350. But, very few variants are only available in CSD Canteen.
Also check: Patna (Bihar) CSD Dealers 2020 – Royal Enfield, Honda, TVS, Suzuki, Hyundai
Royal Enfield Classic
Royal Enfield introduced Classic model bikes in 10 variants. Classic 350, Classic 500 Stealth Black, Classic 500 Squadron Blue, Classic 500 Desert Storm, Classic 500 Chrome, Classic 500, Classic 350 Gunmetal Grey, Classic 350 Redditch, Classic 350 Signals and Classic 500 Pegasus. Note that particular variants only available in CSD Canteen.
Also check: CSD Canteen Royal Enfield Dealers in Delhi 2020
Royal Enfield Thunderbird
Another popular model from Royal Enfield is Thunderbird. Thunderbird is available in 4 variants Thunderbird 500, Thunderbird X 500, Thunderbird 350 and Thunderbird X 350.
Royal Enfield Himalayan, Royal Enfield Continental GT and Royal Enfield interceptor 650.
CSD Canteen Price of Royal Enfield Bullet Standard 350 CC [CSD Index Code 63022]
Available in four colors: Black, silver, sapphire blue, onyx black.
Fuel Tank Capacity: 13.5 ltr
Engine Start: Kick Start
Gearbox: 5 Speed constant mesh
Brake ABS: Single Channel (Front brake)
CSD Price: Rs. 1,01,822 (Chennai Depot)
Non CSD Price: Rs. 1,45,975 (Chennai Ex-Show Room Price)
CSD Chennai Price List of Royal Enfield Bikes 2019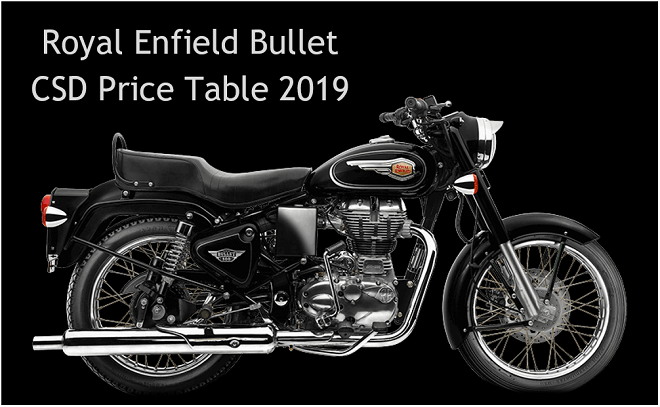 CSD Chennai Price List – Enfield Motorcycle
Index
Items
Amount
63022
RE STD 350 CC
Rs. 1,01,822
64006
RE Bullet 350-ES BIIV Disc
Rs. 1,14,507
64005
RE Classic 350-346CC Rear Disc
Rs. 1,27,197
63107
RE Bullet Classic 500
Rs. 1,73,643
64004
RE Thunderbird 350 ABS
Rs. 1,33,543
64009
RE Thunderbird 500 ABS
Rs. 1,79,485
64007
RE 500 Rear Disc
Rs. 1,51,800
64003
RE 500 Desert Strom
Rs. 1,75,763
64011
RE Classic 500 ABS Chrome
Rs. 1,84,003
64010
RE Himalayan ABS BS IV
Rs. 1,56,407
64016
Classic 350 ABS – Gun Grey
Rs. 1,34,010
Waiting Period 2-3 Months
CSD PRICE LIST OF ROYAL ENFIELD CLASSIC
ROYAL ENFIELD Latest Price List (Updated Feb-2018) Chennai Depot:
| INDEX | ITEMS | AMOUNT |
| --- | --- | --- |
| 63022 | Royal Enfield STD 350 CC | Rs. 1,01,822 |
| 64006 | Royal Enfield Electra | Rs. 1,12,762 |
| 64005 | Royal Enfield Classic 350 | Rs. 1,20,146 |
| 63107 | Royal Enfield Classic 500 | Rs. 1,60,642 |
| 64004 | Royal Enfield Thunderbird | Rs. 1,29,405 |
| 64009 | Royal Enfield Thunderbird IRD 500 | Rs. 1,67,761 |
| 64007 | Royal Enfield 500 | Rs. 1,48,077 |
| 64003 | Royal Enfield Classic DS | Rs. 1,62,796 |
| 64011 | Royal Enfield Classic Chrome 500 | Rs. 1,71,709 |
| 64010 | Royal Enfield Himalayan | Rs. 1,47,629 |
Waiting Period 2-3 Month
1. Confirm Availability from The Dealer for Delivery of Vehicle
2. Rates/Prices Can Be Changed Without Prior Notice
Confirm with Depot Regarding Correct Price Before Transferring
Contact CSD Bullet Dealer
For the latest price and availability, contact your nearest dealer by phone. We compiled a list of dealer address with contact mobile number of major cities and given below…
Royal Enfield Brand Store
Old No 3 No.9 Devikripa Besant Avenue
Adyar, Chennai – 600 020
Ph 044- 42607777 & 42607555
Cont. Person: s. Pugazhendhi – 9444023058
ALL CSD DEALERS IN INDIA – ADDRESS AND CONTACT DETAILS