New User Registration Process in AFD CSD Portal 2023
The CSD AFD online portal has begun its update process. All customers who had registered through the CSD AFD website have been successfully verified and approved. They may now log in once they click the "Accept" button in the CSD AFD portal. It is important to read the four conditions listed below prior to clicking "Accept":
1. Verification of Email ID
2. Update of Pay Level through the "Update Registration Form" Option (Registration Time: 6 PM to 10 PM)
3. Once the changes have been made, the Office of DDGCS will provide administrative approval.
4. Existing users can make a request for an update;
A link will be sent to your registered email account in order to reactivate your account. If the link is clicked, the first step is complete.
[If an email is not received, a new registration must be made through the portal]
Once the required time has elapsed, a confirmation email will be sent, and the user can log in with their old login details (username and password).
Upon logging in to your account in the CSD AFD portal, please ensure to update your pay matrix level details. If the information is correct, simply leave it as is.
CSD AFD Online Portal Shopping Website afd.csdindia.gov.in
CSD AFD Items will be used for personal use only! Customers will not be sold or transferred before completion of 4 years from the date of purchase. Particularly, cars should be transferred after 5 years only!
CSD AFD Inform Beneficiaries that with effect from 1st October 2022, the applicability of Compensation Cess on CSD Outward Supplies on Four Wheelers and Two Wheelers (as applicable) is being implemented by CSD HO. Hence there will be a slight increase in the selling cost of the vehicles due to GST implications.
The online sales of AFD-1 items in the CSD canteen store sales only for Armed Forces Personnel and Ex-Servicemen! The CSD online sales will be stopped for three or four days at the end of every month for taking stock details.
The CSD AFD Online Portal sales have started for the month of January 2022 – You can check the latest price list of Cars, Bikes, Scooters, and electronic items for the month of January 2022.
CSD AFD Online Registration & Login Process
| | |
| --- | --- |
| Organization | Canteen Stores Department |
| Beneficiaries | Armed Forces Personnel & Ordnance Employees and Offices |
| Website | afd.csdindia.gov.in |
| Category | Online Shopping Portal |
| Registration | Online Registration with CSD Smart Card |
| Login | Every Time with User Name and Password |
| Products | AFD Category I Items |
| Car Eligibility | According to the Grade or Post |
| Periodicity | As per the table published by the CSD |
| Bike Eligibility | All Personnel |
| Payment | Only Online Payment |
| LS Order | As per the selection of URC Canteen |
| Delivery | As per the selection of CSD Dealer |
Purchase of AFD (Against Firm Demand) Items Through Canteen Stores Department
CSD AFD Online Shopping Website Launched on 8 January 2021
AFD CSDIndia Gov in Login Shop Now: Raksha Mantri Shri Rajnath Singh today launched the Online Portal https://afd.csdindia.gov.in/ for the purchase of items Against Firm Demand (AFD) from CSD Canteens. The objective of the launch of this Online Portal is to enable about 45 Lakh CSD beneficiaries including Serving & Retired persons from the Armed Forces and Serving Civilian Defence employees to purchase AFD-I items (like Cars, Motorcycles, Washing machines, TVs, Fridges, etc) from the comfort of their home. [Click to read more]
CSD AFD Online Purchase Violation
CSD AFD Portal Purchase Rules: If any customer purchased an item by providing with wrong information, the demand will be canceled. The CSD Smart Card may be blocked for three years and disciplinary action may be taken against the customer! All CSD AFD customers should follow the rules and regulations before purchasing in the CSD AFD portal. The duration gap between the first and second car should be eight years and for bike and AFD-I items should be 4 years.
Check Also These Updates:
AFD CSDIndia Gov in Login Registration Page
Click Here
AFD CSD Canteen Online Portal Registration and Login Process
Click Here
CSD Canteen Online Sales – How to Register?
Click Here
AFD CSD Online Portal – Seeks Suggestions on correction
Click Here
CSD AFD Portal Online Payment System
Important Notes on CSD Payment on AFD Purchase: Only for loan cases, loan payments can be made by direct bank transfer into the bank account of CSD HO.
Bank Account Name: CSD Head Office Main Account AFD-I Receipts Only
Bank Account Number: 000000000000000000
Bank Name & Branch: PNB Branch Mumbai
IFS Code: 0000000000000000
Payments from a beneficiary self-account are to be done only through the payment gateway. No payment will be accepted by the beneficiary into the CSD HO Bank Account or Depot bank account under any circumstances. All demands where payments by the beneficiary are received in the CSD HO/Depot account will be canceled.
Customers Details in CSD AFD Portal
Automatic filling of the customer's details in the CSD ADF online portal: While a CSD AFD customer selects an item for purchasing from the CSD AFD portal, all details (Name, Email, Grocery card number, Chip number, Employment status, Organization, Pan number, Mobile number, etc.) automatically filled in the purchase form.
CSD AFD Portal Price Structure
CSD AFD online portal price details: If a customer selects a Royal Enfield Bullet 350 EFI (BS-6) model bike, the basic price is Rs. 115372, and the additional cost is Rs. 16152 (14 percent). And finally, the CSD margin is Rs. 1154 (1 percent), net price is Rs. 132678 (Inclusive of all taxes and levies). [CSD Pricing Policy]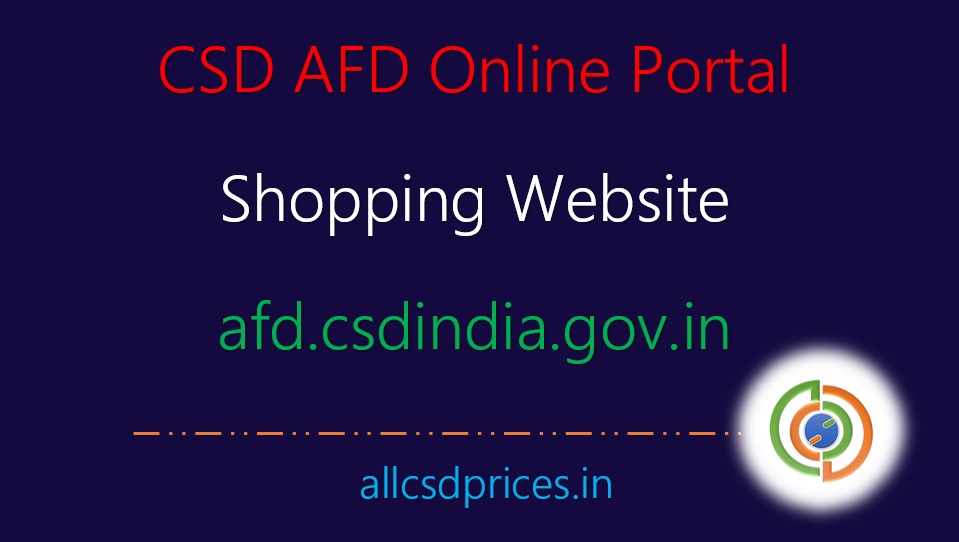 How to purchase AFD items in CSD online?
Go to the official portal of CSD (www.afd.csdindia.gov.in). Register with some simple steps before processing of purchase. And select the item with URC and dealer. Pay online and get the LS Order from your URC.
How to categorized AFD-I items in CSD Canteen?
AFD-I items are generally classified based on the retail price (Rs. 8000 and above).
What are all AFD-I items in CSD Canteen?
AFD-I items are categorized into two segments, one is Four Wheeler and another one is Two Wheelers and White Goods (Home Electrical Appliances)
What are all AFD-I items available in CSD Canteen online?
Car, bikes, scooters, and other costly home appliances like Washing machines, refrigerators, Air conditioners, etc. are under the category of AFD (Against Firm Demand) Items.
How to change or reset password in CSD AFD online portal?
CSD AFD online portal provides an option to change or reset passwords on the login page. Click the link 'Lost your password' and enter your email id. The CSD AFD team will send the link to your mail for changing the password.
How to check the status of Supply Order in CSD AFD?
The CSD AFD online website provides the option to know the status of the Supply Order (LS Order) of the booked items for beneficiaries. Go to the official website of afd.csdindia.gov.in and click the link 'Verify Supply Order' at the bottom of the website.
Why CSD AFD online portal is not opening frequently?
The CSD AFD online shopping portal is restricted to registered users only! If the portal is not opening in Chrome, try in another browser like Microsoft Edge or Firefox. Also, clear cache & cookies, and then try again!