Ladakh RTO
Administering Motor Vehicle Act & Road Safety Measures
The Ladakh Regional Transport Office (RTO) is responsible for enforcing and regulating the Motor Vehicles Act and Ladakh e-vehicle Policy 2022. As the State Transport Authority, the department coordinates and oversees the activities of the Regional Transport Authority to ensure road safety measures are implemented.
In addition, Ladakh RTO fixes fares and freight, and works closely with the Commissioner/Secretary of the Transport Department to administer the provisions of the Motor Vehicle Act.
To prevent road traffic accidents, Ladakh RTO provides guidelines for road users, including information on the types and causes of accidents such as longitudinal, transversal, and skid-on-road accidents. Some common causes of accidents include driver error, overloading, and absence of traffic control devices.
To prevent accidents, Ladakh RTO recommends banning the use of mobile phones while driving, wearing seat belts and protective headgear, and checking for overloading and over-speeding. The department also organizes road safety programs and investigates and prosecutes road accidents.
Ladakh RTO emphasizes the importance of road accident management and has established trauma units, call help centers, and quick rescue teams. The department also advocates for the creation of a Passenger Welfare Fund/Corpus Fund and the formation of Road Safety Councils to promote road safety in the region.
About Ladakh RTO 2023
The Ladakh RTO, set to launch in 2023, aims to provide safe, efficient, and affordable transport services to the people of the UT. The department oversees the functioning of the Motor Vehicle Department, UT Ladakh, UT Motor Garages, and J&K Road Transport Corporation. With a clear vision of delivering quality transport services to all citizens at a reasonable cost, the department has adopted policies and programs tailored to the needs of the local economy. Road safety is a top priority, with the department ensuring that only trained drivers and mechanically sound vehicles operate on the roads to minimize accidents and pollution. To combat private transporters' high fares, the State Transport Authority periodically fixes fares in consultation with public representatives and private vehicle owners. All transport-related decisions are made in the transport Secretariat, which issues instructions, policies, and objectives to ensure efficient delivery of public services.
Ladakh RTO Vehicle Registration Owner Search
| | |
| --- | --- |
| Name of Department | Road Transport |
| Registration Authority | Ladakh Regional Transport Office |
| Identify basic details | Ladakh Vehicle Owner Details |
| Official Website | ladakh.nic.in |
| Registration Details | Ladakh RTO Code List 2023 |
Online Driving Licence Ladakh 2023
Online Driving Licence Ladakh 2023: Everything You Need to Know About Registering Your Vehicle with Ladakh RTO
If you plan to drive a motor vehicle in Ladakh, it is important to first register it with the Ladakh RTO. This process can now be completed online, and we've compiled all the information you need to know to make it happen.
To register your vehicle with the Ladakh RTO, you will need to provide the following documents: Vehicle registration application Form 20, PUC certificate, Road worthiness certificate Form 22, Vehicle insurance certificate, passport size photographs, applicable application fee, and age and address proof documents. Additionally, if you're registering an imported vehicle, a custom clearance certificate is required.
Upon submitting your documents, RTO officials will verify your age and address proof documents and check your vehicle. From there, they will issue a registration number for your vehicle. If you're interested in a fancier registration number, you can participate in the auction method.
Don't risk driving without proper registration – ensure you complete the online registration process with the Ladakh RTO before hitting the road in 2023.
LA RTO Code
LA RTO Code 2023: Know the Ladakh RTO Codes for All Districts
The transport sector in Ladakh, India is governed by the Regional Transport Act and managed by the Regional Transport Office (RTO). As a responsible authority, the RTO regulates and manages all transport operations in Ladakh. To ensure compliance with transport rules and regulations, RTO inspectors are assigned to track down RTOs in particular districts. You can easily access the Ladakh RTO code list for all districts right here. Stay updated with LA RTO Code 2023 to avoid any hassles related to transport operations in Ladakh.
| | |
| --- | --- |
| RTO CODE | RTO OFFICE |
| LA 01 | Asst. RTO, kargil |
| LA 02 | RTO Ladak |
Renewal of Driving Licence in Ladakh
Get Your Driving Licence Renewed in Ladakh with Ease Renewing your driving licence in Ladakh has never been easier. With our online driving licence renewal service, you can now apply for a renewal from the comfort of your own home. To get started, simply visit our website at https://parivahan.gov.in/parivahan/ and apply online today.
Book Your Slot Today for Driving Licence Renewal in Ladakh Avoid the hassle of waiting in line by booking your slot for driving licence renewal in Ladakh ahead of time. Our easy-to-use online booking system allows you to choose a time and date that works best for you.
Visit ARTO Office Kargil for Driving Licence Renewal For those who prefer to handle their driving licence renewal in person, the ARTO Office Kargil is available to help. Conveniently located in Kargil with a PIN Code of 194103, our offices are here to assist you with all your driving licence renewal needs.
Important Links:
Ladakh Parivahan Fancy Number
Ladakh Parivahan Fancy Number: How to Check Availability and Bid Online If you're a resident of Ladakh looking for a unique and fancy vehicle registration number, you'll be pleased to know that the process has never been simpler. Thanks to the Ladakh Government's online vehicle registration services, you can now easily check the availability of fancy numbers and bid for them from the comfort of your own home.
To get started, simply follow these steps. Firstly, head to the Ladakh Government's website and access the online vehicle registration service. From there, you can easily check the availability of the fancy number you desire. If the number is already taken, you can bid for it in an online auction.
The bidding process is transparent and straightforward. If multiple parties are interested in the same number, they will have to compete in an auction. The highest bidder will win the number, and the results will be posted online. Payments for the fancy number can also be made online, making the entire process seamless and efficient.
So, if you're looking to add a unique touch to your vehicle's registration number in Ladakh, be sure to take advantage of the convenience and simplicity of the online system. With just a few clicks, you can check availability, bid, and pay for your fancy number without ever leaving your home.
RTO Leh official website
Looking for the official website of RTO Leh? You can find all the necessary information on their website. In addition, their contact number is also available for any inquiries you may have. If you're in Leh Ladakh and need assistance, their helpline number is readily available. To get in touch with the ARTO, you can reach them at [email protected].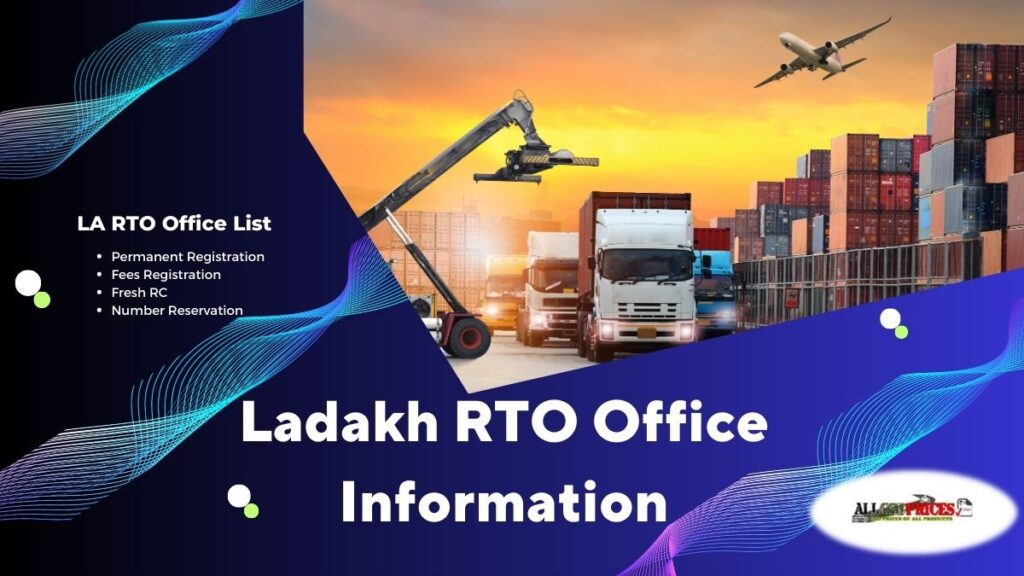 What is Ladakh RTO 2023?
Ladakh RTO 2023 is the official website of the Regional Transport Office of Leh, which provides online driving license, vehicle registration owner searches, and access to Ladakh RTO codes for all districts.
What is the website address for Ladakh RTO 2023?
The website address for Ladakh RTO 2023 is ladakh.nic.in.
What is the range of Ladakh RTO registration numbers?
The range of Ladakh RTO registration numbers is from LA-01 to LA-02.