Parivahan Uttarakhand
The Uttaranchal Motor Vehicles Taxation Reforms Rules, 2003 have been put into effect, with the Regional Transport Officer or Assistant Regional Transport Officer or Passenger Tax Officer working in Uttarakhand State as the Taxation Officer. The State Transport Authority and every Regional Transport Authority have been authorized to classify all routes within their respective jurisdiction as Class 'A' or Class 'B' routes. Copies of Forms prescribed by these rules can be obtained from any Taxation Officer or downloaded from the department's website if available.
About Uttarakhand RTO 2023
The Transport Department of Uttarakhand was formed in 2000 and is headed by the Transport Commissioner. The State Road Transport Corporation has been reorganized as "Uttarakhand Transport Corporation" and operates on nationalized and non-nationalized routes. Private operators also ply buses on non-nationalized and interstatel routes. The hill routes are covered by buses with a wheelbase of 166 inches and not more than 50 percent overhang, while the plain routes have larger buses with more seating capacity and up to 60 percent overhang.
Uttarakhand RTO Vehicle Registration Owner Search
| | |
| --- | --- |
| Name of Department | Road Transport |
| Registration Authority | Uttarakhand Regional Transport Office |
| Identify basic details | Uttarakhand  Vehicle Owner Details |
| Official Website | transport.uk.gov.in |
| Registration Details | Uttarakhand RTO Code List 2023 |
Uttarakhand Vehicle Registration
When it comes to registering a vehicle in Uttarakhand, there are a few requirements that must be met. First and foremost, the applicant must submit an application in form-20 to the Registering Authority. Along with this application, the following documents must also be provided: a sale certificate in form-21, form 22 issued by the dealer, a valid insurance certificate, proof of address, any temporary registration paperwork, form-A under Taxation Act 1997, fees specified in Rule 81, and a passport-size photograph. In the case of an imported vehicle, a custom clearance certificate must also be submitted along with the license and bond. It's important to note that all of these documents must be submitted within seven days of purchasing the vehicle.
Uttarakhand For Renewal of RC:
To renew your RC in Uttarakhand, kindly furnish the following documents along with your application:
1. Duly filled Form 25
2. Registration certificate
3. Insurance certificate
4. Pollution Under Control certificate
5. Receipt evidencing payment of fees
6. A document confirming your address particulars.
Uttarakhand RTO List 2023
The year 2023 is expected to witness the operation of four Regional Transport Authorities (R.T.A.'s) in Uttarakhand, which will be responsible for granting permits in the area. These R.T.A.'s are situated as follows: the Regional Transport Authority in Dehradun located in Dehradun itself, the Regional Transport Authority in Pauri situated at Pauri, the Regional Transport Authority in Kumaun based out of Haldwani, and finally, the Regional Transport Authority in Almora which is located in Almora.
| | |
| --- | --- |
| UK-01 | Almora |
| UK-02 | Bageshwar |
| UK-03 | Champawat |
| UK-04 | Nanital |
| UK-05 | Pithoragarh |
| UK-06 | Udham Singh Nagar |
| UA07 | Dehra Dun (UK07TC for taxis) |
| UK-08 | Haridwar |
| UK-09 | Tehri |
| UK-10 | Uttarkashi |
| UK-11 | Chamoli |
| UK-12 | Pauri |
| UK-13 | Rudraprayag |
Uttarakhand Driving Licence Online Check
In 2023, Uttarakhand Driving Licence Download will require certain fees to be paid for different licenses issued by the department. These fees have been revised as per the Ministry of Road Transport and Highways Notification issued on May 31st, 2002. The list of fees is as follows:
Issuance of Learner's License in Form 3 for each class of Vehicle: Rs. 150.00
Learner's license test fee or repeat test fee, as applicable: Rs. 50.00
For test, or repeat test, as applicable, of competence to drive (for each class of vehicle): Rs. 300.00
Issuance of Driving License: Rs. 200.00
Issuance of International Driving Permit: Rs. 1000.00
Addition of another class of vehicle to Driving License: Rs. 500.00
Endorsement or renewal of authorization for vehicle carrying hazardous goods: Rs. 100.00
Renewal of Driving License: Rs. 200.00
Renewal of a driving licence for which application is made after the grace period
Note: An additional fee of Rs. 1000 will be levied for each year or part thereof reckoned from the date of expiry of the grace period.
Issuance or renewal of licence to a school or establishment for imparting instructions in driving: Rs. 10,000.00
Issuance of duplicate licence to a school or establishment for imparting instructions in driving: Rs. 5,000.00
An appeal against the orders of licensing authority referred to in rule 29: Rs. 500.00
Any application for change in address or any other particulars recorded in the driving licence e.g. address etc.: Rs. 200.00
Conductor License fees: Half of DL fees
Issuance of Duplicate License: Rs. 200.00
Duplicate Conductor License: Half of DL Fee
This information is provided for the convenience of those looking to obtain a driving license in Uttarakhand in 2023.
RTO Toll Free Number Uttarakhand 2023
Contact the RTO in Uttarakhand via their toll-free number in 2023. They have Regional and Sub-Regional Offices located in Uttarkashi and Pauri. To reach Uttarkashi, dial 01374-211174, and for Pauri, contact Sri Dwarika Prasad, R.T.O.(Adm) at 01368-223003.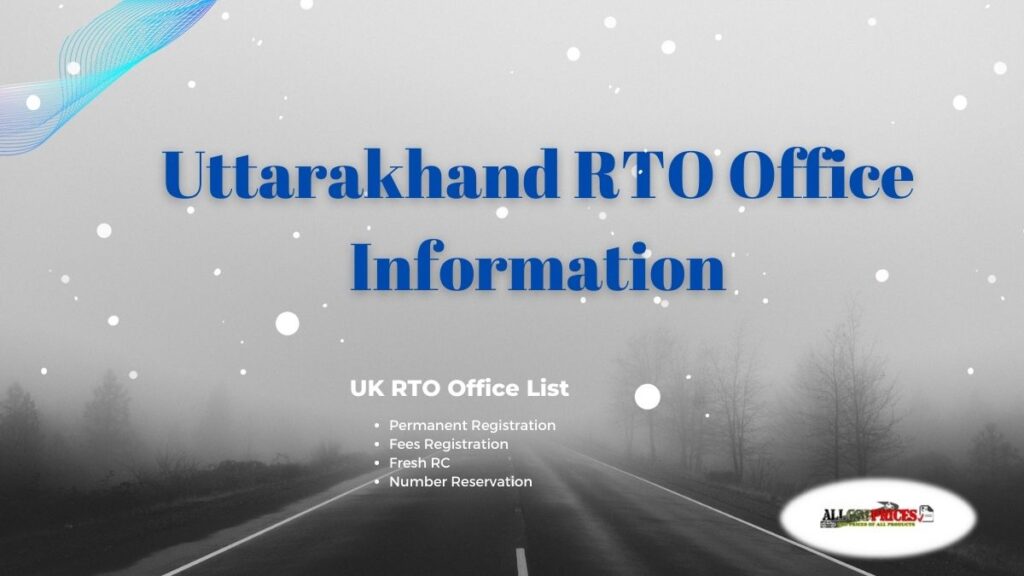 What is Uttarakhand RTO Code List 2023?
Uttarakhand RTO Code List 2023 is a comprehensive list of all vehicle registration details and other related information for vehicles registered in the Indian state of Uttarakhand.
What does the list include?
The list includes information about re-registration of vehicles in Uttarakhand, Uttarakhand driving licence online check, and new Vehicle Registration Fees in Uttarakhand.
How can I access the list?
The Uttarakhand RTO Code List 2023 is available online and can be accessed by visiting the official website of the Uttarakhand Government.