Tamil Nadu RTO Code List PDF 2023
Tamil Nadu is one of the most populous states in India and has a well-established road network. The Regional Transport Office (RTO) in Tamil Nadu is responsible for vehicle registration, issuing driving licenses, and enforcing traffic rules. In this article, we will provide you with a comprehensive list of RTO codes in Tamil Nadu, along with information on vehicle registration and owner details.
TN Vehicle Registration List 2023
| | |
| --- | --- |
| Name of Department | Road Transport |
| Registration Authority | Tamil Nadu Regional Transport Office |
| Identify basic details | TN Vehicle Registration and Owner Details |
| TN RTO Office Timing | 9.00 AM – 5.00 PM |
| Official Website | tnsta.gov.in |
| Registration Details | Tamil Nadu RTO Code List 2023 |
Tamil Nadu RTO Government Numbers List 2023
Tamil Nadu has a total of 99 RTOs, each with a unique code. The RTO code is a combination of two letters and four digits. The first two letters represent the state, while the next two digits represent the district. The last two digits represent the RTO office. For example, the RTO code for Chennai Central is TN-01
Tamil Nadu RTO Fancy Numbers List 2023
Follow these simple steps to make it happen. First, register online as a Public User on the official website of the Ministry of Road Transport and Highway. Once you've signed up and logged in, select your preferred fancy number and pay the required registration fees to reserve it. Finally, bid on your desired VIP car number to secure it for yourself.
Fancy Number Cost in Tamil Nadu 2023
Registration charges vary depending on the series you want to register for. For the series currently running and the next three series, the cost is Rs. 40,000. For series between 5th to 8th, the cost is Rs. 60,000. For series 9 and 10, the cost is Rs. 1,00,000, and for series 11 and 12, the cost is Rs. 2,00,000. Don't wait any longer to score your fancy number – follow these steps and make it yours today!
Tamil Nadu RTO Vehicle Registration Code 2023
The primary responsibilities of the Tamil Nadu Transport Department include various tasks related to licensing, registration, permitting, and fitness certification for motor vehicles. These duties comprise administering licenses for drivers and conductors, registration of vehicles, as well as issuing fitness certificates for transport vehicle, temporary fitness certificate, and revocation of C.F.X. Additionally, the department is responsible for permitting vehicles for various purposes including all India tourist motor cabs, taxis, and buses.
How to Apply Driving License online in Tamil Nadu
To get a driving license in Tamil Nadu, individuals must pass a driving test conducted by a Motor Vehicle Inspector. The test can be taken individually or through a recognized driving school. The license is valid for 20 years for non-transport vehicles and 3 years for transport vehicles. If an individual fails the test, they can retake it after 7 days but not before 60 days if they fail three times. Required documents include an online application, a valid learner license, and documents for the vehicle being used for the test.
Vehicle Registration in Tamil Nadu RTO 2023
Vehicle registration in Tamil Nadu is done at the respective RTO office based on the location of the owner. The process involves submitting the required documents, such as proof of address, proof of identity, and vehicle insurance. Once the documents are verified, the vehicle is assigned a registration number and a certificate of registration is issued.
The registration number consists of two letters that represent the state, followed by two digits that represent the district, and then a combination of up to four letters and digits that are unique to the vehicle. For example, if you register your vehicle in Chennai Central, your registration number will be TN-01 AB 1234.
Tamil Nadu Vehicle Registration Details 2023
The RTO in Tamil Nadu maintains a database of all registered vehicles and their owners. This information can be accessed by providing the registration number of the vehicle. The owner details include the name, address, and contact information of the registered owner. This information can be useful in case of accidents or other legal issues involving the vehicle.
Documents Required For TN Vehicle Registration 2023
To register a motor vehicle in Tamil Nadu, the following documents are required- Vehicle registration application Form 20, PUC certificate, Road worthiness certificate Form 22, vehicle insurance certificate, passport size photographs, applicable application fee, age and address proof documents, and vehicle invoice. Custom clearance certificate is required for imported vehicles. The RTO officials verify the documents and issue the registration number. Fancy registration numbers can be obtained through an auction method.
TN RTO Code List PDF Download 2023
To download the Tamil Nadu RTO code list in PDF format, use the provided TN RTO download link at the bottom of the article. The list includes district-wise codes and office addresses with helpline phone numbers and pin codes.
In conclusion, the RTO codes in Tamil Nadu are an important aspect of vehicle registration and ownership. Knowing your RTO code can make it easier to navigate the registration process and access owner details when needed.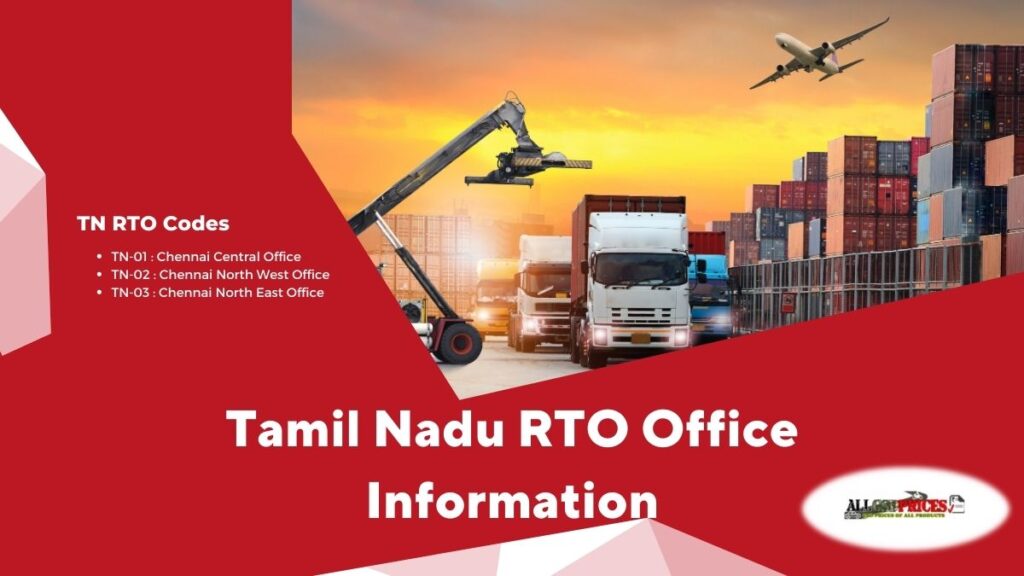 What is the Tamil Nadu RTO Code List 2023?
The Tamil Nadu RTO Code List 2023 is a list of vehicle registration and owner details in the state of Tamil Nadu. It includes TN RTO Vehicle Registration Owner Details, Fancy Number, LLR, Driving License 2023.
What information is included in the Tamil Nadu RTO Code List 2023?
The Tamil Nadu RTO Code List 2023 includes vehicle registration information, owner details, and other related information.
Where can I find the Tamil Nadu RTO Code List 2023?
The Tamil Nadu RTO Code List 2023 can be found on the TN RTO Official Website: tnsta.gov.in.