AFD CSD Canteen Online Portal One Time Registration
All Armed Forces Personnel, Ex-Servicemen, and Defence Civilians are eligible to register in the official online portal of afd.csdindia.gov.in
Canteen Stores Department is on the next level!
India's biggest chain store owned by the Central Government has now stepped to Online Platform. This facility is a great relief for the CSD Customers who are wishing to buy AFD items.
What are the items under AFD in CSD?
The list of important and attractive items are given below:
All brand Cars (Four-Wheeler)
All brand Bikes and Scooters (Two-Wheeler)
All brand Washing Machine
All brand Air Conditioner
All brand Refrigerator
and many more items.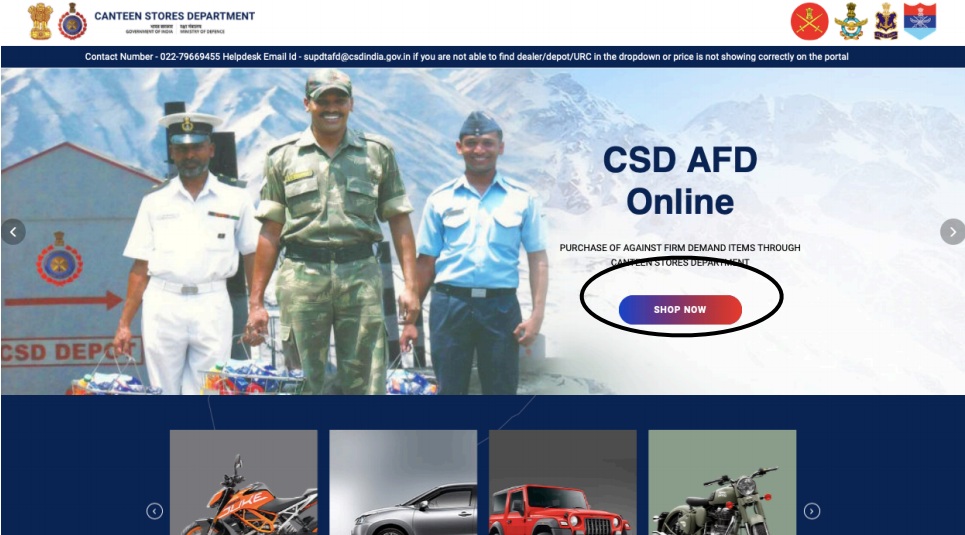 How to pay the cost of AFD items through an online portal?
When a CSD customer buys any of the AFD items online, he has to transfer the money from his bank account only. Not to transfer money from non-CSD customers' bank accounts.
What are the documents needed for registration in afd.csdindia.gov.in?
CSD Canteen Smartcard (Grocery Canteen Card)
PAN card for PAN Number
Mobile Phone for OTP verification
How many days taken for approval on registration in afd.csdindia.gov.in?
Normally the Admin of afd.csdindia.gov.in will take two working days for given approval on registration.
CSD Portal
Canteen Stores Department (CSD) Online Shopping Website Portal for purchasing of AFD-1 Items for Armed Forces Personnel and Ex-Servicemen.
CSD Online | CSD Canteen Online Login
CSD Canteen Online Portal Login is a Mandatory Action for All Customers! The Shopping Online Portal is Not for General Public!
CSD Canteen Online Registration | CSD Canteen Registration Form
All Smart Card Customers are allowed to register in CSD AFD Online Portal for View or Purchasing the All Available Products and Price! The Registration Form will be available in the portal!
CSD AFD Online booking | CSD AFD gov in
If you are an eligible CSD customer to purchase a bike, scooter, car or other electronic items, go to the CSD AFD official online website and follow the instructions to buy online!
CSD AFD Online Registration Approval | CSD AFD gov in
CSD AFD Online Portal Registration Approval Method: The signup approval process of the portal is made manually! So, it will a maximum of two weeks! And the approval will be given on the basis of a number of waiting for members also! Sometimes the approval mail will be sent within a week also!
CSD AFD Items List
The CSD AFD Portal has gradually increased the items for sales and displayed including all details to the customers! Item List, Dealer detail, URC Canteen and colour with variants.
CSD AFD Helpline Number
Canteen Stores Department (CSD) AFD Online Shopping Store Website – Helpline Phone Number
HelpDesk – For issues related to registration: 0120-4699923
Helpline number of CS Directorate: 011-26181892
What is the address of AFD CSD online portal?
The AFD CSD Online shopping portal web address is afd.csdindia.gov.in
Why AFD CSD Portal is closing in all month end?
AFD CSD online portal is stopped sales for two or three days in the end of every month for the administrative purpose and settlement of accounts.
Any changes made in CSD AFD online portal for registration 2022?
No, specified changes have been made for registering in CSD AFD online portal in the year 2022.
How to check the status of supply order in CSD AFD portal in 2022?
Go to the official portal of CSD AFD online portal and click the link is given below the home page "Verify Supply Order".
What are the helpline numbers of the CSD AFD online portal?
If you are facing any problems in registration, please contact 0120-4699923 and the helpline number 011-26181892. You can contact the above numbers based on your issue, from Monday to Friday between 10:00 A.M and 5:00 P.M
How to purchase AFD items through CSD portal in 2022?
Go to the official portal with login and select the product. Select variant, color, location, dealer, and URC canteen. Keep all documents before initiating the buying process. Pay the amount from your own bank account. That's all. Keep watching the status of LS Order.