Monetary Limits for all Ranks for Purchase of CSD Stores
With effect from 1st June 2015 the purchase limits for grocery stores from CSD will be as under:-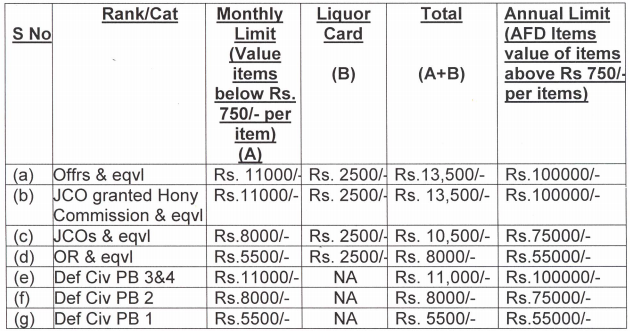 AFD items valued more than Rs. 750/- per item are automatically counted in the annual limit. Local restrictions on lower monetary limits on grocery may be the canteen management purely for inventory laid down by management/administrative reasons.
Unit Run Canteens management will ensure attractive items are sold strictly as on required basis and not in excess quantity. Strict watch be maintained on sale of items where there is a large difference in CSD and market rates such as suitcases, watches, pressure cookers, fans and other attractive toiletry and cosmetic items. Profile of customers be strictly watched beyond means.
Formation HQs will institute surveillance measure to ensure no misuse take place, Strict disciplinary action be initiated against personnel indulging in any mal practice or illegal activity including sale of CSD items to unauthorised persons.
Contents of this letter be disseminated to all concerned under your command.
Liquor entitlement will be continue to be as per scale issued vide this office letter No 96219/Q/DDGCS dated 07 Oct 2008.
Letter No 96027/Q/DDGCS dated 27 Oct 2008 is hereby superseded.