Rajasthan RTO State
The Transport and Road Safety Department in Rajasthan is overseen by the Transport Commissioner, who also serves as the Secretary to the Government. The department includes six positions, including the Additional Transport Commissioner for Administration and Joint Government Secretary, the Additional Transport Commissioner for Enforcement, and the Additional Transport Commissioner for Rules/Training, among others. At the headquarters, there are also three Joint Transport Commissioner positions for rules, pollution control, and railway coordination, as well as several Deputy Transport Commissioner positions for Administration, YoV, Enforcement, and Road Safety. Additionally, the department has created several other key positions, including a System Analyst, Assistant Transport Commissioner, Assistant Director, Chief Legal Counsel, and Analyst cum Programmer. To ensure the smooth operation and monitoring of transport services, Rajasthan has been divided into twelve divisions and fifty-four districts. For anyone looking to navigate the Rajasthan RTO state, understanding the roles and responsibilities of the Transport and Road Safety Department is key.
About Rajasthan RTO 2023
The Transport and Road Safety Department of Rajasthan underwent a reorganization process in December 1972, when the State Government set up a task force for the purpose. Since July 1974, this department has been responsible for various tasks related to transportation such as vehicle registration, driving license issuance, permit issuance, vehicle fitness, recovery of Motor Vehicle Tax, and enforcement of the Motor Vehicle Act and Rules. If you're looking for information on Rajasthan RTO 2023, the Transport and Road Safety Department is the place to look.
Rajasthan RTO Vehicle Registration Owner Search
| | |
| --- | --- |
| Name of Department | Road Transport |
| Registration Authority | Rajasthan Regional Transport Office |
| Identify basic details | Rajasthan Vehicle Owner Details |
| Official Website | transport.rajasthan.gov.in |
| Registration Details | Rajasthan RTO Code List 2023 |
Rajasthan Vehicle Registration Check Online 2023
As of 2023, it is mandatory for all motor vehicles to be registered as per the Motor Vehicles Act, 1988 and its rules. Driving or allowing a motor vehicle to be driven without proper registration is strictly prohibited in any public or private space.
To register your vehicle in Rajasthan, locate the registering officer within your jurisdiction based on your residence or business address. Once registered, non-transport vehicles will remain valid for 15 years, with renewal required every 5 years. Transport vehicles must be re-registered for every 15 year period. Stay compliant and ensure your vehicle is legally registered in Rajasthan by following these guidelines.
Rajasthan RTO Code List PDF 2023
The Rajasthan RTO Code List PDF 2023 contains information on the District Transport Officer positions in Shahjahanpur and Ratanpur, with one Regional Transport Officer in each of the seven regions. The RTOs also serve as ex-officio secretaries of regional transport authorities, with additional support from two posts in Jaipur and Jodhpur and one RTO post in Alwar, Ajmer, Kota, Bikaner, Udaipur, Sikar, Dausa, Pali, Bharatpur, and Chittorgarh. Below are the headquarters of the Regional Transport Officers and their respective transport districts –
5: Jaipur, Dudu, Kotputli, Chaumu, Shahpura
3: Dausa, Sawaimadhopur, Karauli
5: Sikar, Jhunjhunu, Churu, Sujangarh, Khetri
7: Ajmer, Tonk, Nagaur, Beawar, Didwana, Kishangarh, Kekdi
3: Alwar, Bhiwadi, Shahjahanpur (Tax Collection Center)
5: Jodhpur, Barmer, Jaisalmer, Balotra, Phalodi
5: Pali, Sirohi, Jalore, Abu Road, Bhinmal
5: Udaipur, Banswara, Dungarpur, Rajsamand, Ratanpur (Tax Collection Center)
4: Chittorgarh, Pratapgarh, Bhilwara, Shahpura
5: Kota, Bundi, Jhalawar, Baran, Ramganj Mandi
5: Bikaner, Ganganagar, Hanumangarh, Nohar, Nokha
2: Bharatpur, Dholpur. Use the Rajasthan RTO Code List PDF 2023 for all your transportation needs in the state.
| | |
| --- | --- |
| RJ-01 | Ajmer |
| RJ-02 | Alwar |
| RJ-03 | Banswara |
| RJ-04 | Barmer |
| RJ-05 | Bharatpur |
| RJ-06 | Bhilwara |
| RJ-07 | Bikaner |
| RJ-08 | Bundi |
| RJ-09 | Chittaurgarh |
| RJ-10 | Churu |
| RJ-11 | Dholpur |
| RJ-12 | Dungarpur |
| RJ-13 | Sri Ganganagar |
| RJ-14 | Jaipur |
| RJ-15 | Jaisalmer |
| RJ-16 | Jalore |
| RJ-17 | Jhalawar |
| RJ-18 | Jhunjhunu |
| RJ-19 | Jodhpur |
| RJ-20 | Kota |
| RJ-21 | Nagaur |
| RJ-22 | Pali |
| RJ-23 | Sikar |
| RJ-24 | Sirohi |
| RJ-25 | Sawai Madhopur |
| RJ-26 | Tonk |
| RJ-27 | Udaipur |
| RJ-28 | Baran |
| RJ-29 | Dausa |
| RJ-30 | Rajsamand |
| RJ-31 | Hanumangarh |
| RJ-32 | Kotputli |
| RJ-33 | Ramganj Mandi |
| RJ-34 | Karauli |
| RJ-35 | Pratapgarh |
| RJ-36 | Beawar |
| RJ-37 | Didwana |
| RJ-38 | Rawhhuu |
The Rajasthan RTO Code List PDF 2023 features a comprehensive list of transport offices and centers across the state. In addition to the 78 district transport officers, 296 transport inspectors and 375 transport sub-inspectors, the state boasts of 37 tax collection centers on inter-state borders such as District Transport Office Shahjahanpur and Ratanpur. For easy access, 27 sub-transport offices have also been set up in major towns. The Regional Transport Officer posts in Jaipur and Jodhpur are held by officers of the State Administrative Service category, while the rest are managed by officers of the Transport Service. The department endeavors to ensure efficient execution of transport-related work in every district, benefitting the common man.
Rajasthan Permit Online 2023
Get your Rajasthan Permit Online in 2023 hassle-free with our easy and quick process. A permit is a mandatory authorization that allows you to use your motor vehicle as a transport vehicle, whether it's for public service, goods transportation, educational institution, or private service. Without a valid permit, no vehicle can be used as a transport vehicle.
As per the Motor Vehicles Act, 1988, Section 66(1), the owner of a motor vehicle can use it as a transport vehicle only in accordance with the conditions of the permit granted by the Regional or State Transport Authority or any prescribed authority. Save your time and effort by availing of our Rajasthan Permit Online service in 2023, and enjoy a hassle-free experience.
If you're looking to obtain a Rajasthan permit online in 2023, it's important to note that section 66(1) doesn't apply to certain transport vehicles. These include vehicles owned by the Central Government or a State Government that are used for official purposes not connected to any commercial enterprise. Vehicles owned by a local authority or a person under contract with a local authority that are solely used for street sweeping, street watering, or cleaning are also exempt.
The same goes for vehicles used only for police, fire, or ambulance work or for the transport of dead bodies and persons accompanying them. Additionally, vehicles used for towing or moving goods from a broken-down vehicle, those used for public purposes prescribed by the State Government, or those used by motor vehicle manufacturers or dealers for specific purposes and in accordance with conditions set by the Central Government are not subject to section 66(1).
Goods vehicles with a gross vehicle weight of 3000 kgs or less and those purchased in one state and going to another without passengers or goods are also exempt. If a vehicle is temporarily registered under section 43 and proceeding unoccupied for registration purposes or is required to be sent by an alternate route due to unforeseen circumstances or natural disasters, it is not subject to section 66(1).
Finally, transport vehicles subject to a hire-purchase lease or hypothecation and taken into possession by the person with whom the owner made the agreement to enable the vehicle to reach its destination are exempt, as are transport vehicles proceeding empty to a repair facility. Keep these exemptions in mind when applying for your Rajasthan permit online in 2023.
Rajasthan Driving License Download 2023
To legally operate a motor vehicle in any public place in India, it is mandatory to hold a valid driving license for the respective category of the vehicle.
Both learning and driving licenses are regarded as valid throughout India. Individuals can seek a driving license by submitting themselves for a driving test, and for that purpose, they can drive a motor vehicle to gain driving experience.
To comply with the regulations, individuals must have obtained a learning license and ensure that the motor vehicle they are driving is supervised by an instructor who has an effective driving license to control the vehicle.
Additionally, the motor vehicle should have a white background plate or card affixed on the front and rear, and the letter "L" must be prominently displayed in red color with dimensions of at least 10 cm. in height, 2 cm. in width, and 9 cm. in bottom width. For individuals seeking to download their Rajasthan driving license in 2023, following these guidelines is crucial.
Rajasthan RTO Mail ID 2023
If you need to contact the Rajasthan RTO concerning transport appeal tribunal matters, you can reach out to the Nodal Officer, Mr. H N Saraswat (PO), located in Jaipur. Simply dial 0141-2206589 to reach the office. You can also send an email to [email protected] to get in touch. Remember to include "Rajasthan RTO Mail ID 2023" in your subject line to ensure your message is directed to the right person.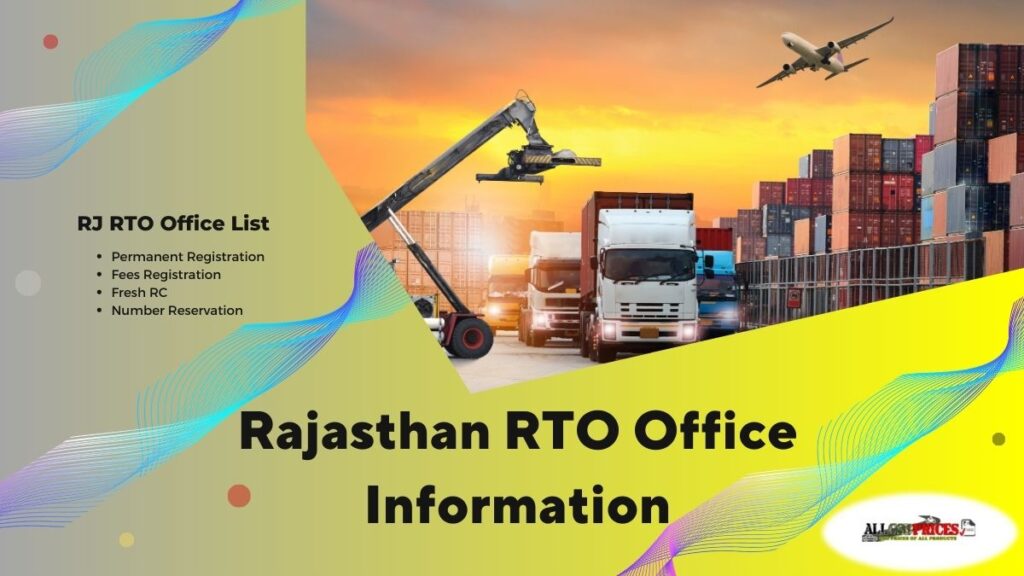 What is Rajasthan RTO Code List 2023?
Rajasthan RTO Code List 2023 is a comprehensive list of Rajasthan regional transport office (RTO) codes and related information such as vehicle registration, owner details, latest updates, and permit fees.
How can I search for vehicle registration and owner details in Rajasthan?
You can search for vehicle registration and owner details in Rajasthan using the Rajasthan RTO Code List 2023.
How can I check the Rajasthan vehicle registration online?
You can check the Rajasthan vehicle registration online using the Rajasthan RTO Code List 2023.