Odisha RTO State
Orissa is a state that is well-equipped to cater to the needs of its vehicle-owning population. With 35 RTOs and 3 ARTOs strategically placed across the region, it has effectively ensured the convenience of the public. The workforce at each RTO comprises a Regional Transport Officer (RTO), Inspector of Motor Vehicle IMV, Addl RTO (Enforcement), Addl RTO (General), Asst RTO, Asst. MVIs, Jr. MVIs, Traffic Inspectors, Traffic Sub-Inspectors, OMVD Constables (Enforcement), and Ministerial Staff. The RTO, being the chief authority, shoulders the responsibility of transport administration in the area. They are the key personnel in the field offices entrusted with enforcing the Motor Vehicle Act and Rules.
About Odisha RTO 2023
The Odisha RTO 2023 is an important entity responsible for ensuring that the provisions of the MV Act and Rules are properly implemented. As the head of the State Transport Authority in Orissa, the Transport Commissioner-cum-Chairman oversees the collection of MV revenue and regulation of passenger and goods transport by road. Their ultimate goal is to deliver an efficient, convenient, and safe transport system to the mobile population of the State.
Under the administrative control of the Transport Commissioner are various offices including all RTOs, Border Check gates, Dy Commissioner's offices, and Driving Training Schools. The Addl. Commissioner, Transport (Administration) is responsible for maintaining administrative discipline and reforms in the department. This post is held by a senior officer from the Orissa Administrative Service.
The Addl. Commissioner, Transport (Enforcement) is another senior officer from the Indian Police Service in the rank of D.I.G. Their primary responsibility is to ensure timely and effective enforcement of the MV Act and Rules.
Odisha RTO Vehicle Registration Owner Search
| | |
| --- | --- |
| Name of Department | Road Transport |
| Registration Authority | Odisha Regional Transport Office |
| Identify basic details | Odisha Vehicle Owner Details |
| Official Website | odishatransport.gov.in |
| Registration Details | Odisha RTO Code List 2023 |
The Secretary, State Transport Authority-cum-Addl Commissioner, Transport (Permit) is responsible for issuing inter-district permits, inter-state permits to stage carriages, and national permits to goods vehicles that ply in other states. This post is held by a senior OAS Officer.
The Additional Commissioner, Transport (Technical) is responsible for monitoring and administering the works of IMVs and Jr. IMVs of the department. This post is held by a senior Technical Officer.
Lastly, the Joint Commissioner Transport (Tax) is responsible for monitoring, reviewing, and auditing the tax revenue collection of all RTOs and additional/ assistant RTOs. This post is held by a senior officer from OAS cadre in the rank of OAS (SS).
Odisha Driving Licence check
In Odisha, applicants for driving licences are offered the option of tracking their application status online. Successfully submitted applications no longer require a follow-up visit to the RTO office, as the online facility provided by the Sarthi Parivahan website or regional transport website offers real-time updates on applications.
It is important to hold a driving licence if you wish to operate a vehicle, as failure to do so can result in fines. By making use of the Sarathi Parivahn website, you can apply for your licence online and take your driving skill test at the RTO office. Once passed, your driving licence will be issued and application status can be viewed online 30 days later.
To apply for a driving licence online, simply visit https://parivahan.gov.in/parivahan/ and click on 'Online Services', followed by 'Driving License Related Services'. From there, select your state and click on 'Apply for Driving License'. You will then be asked to provide your learner's license and date of birth, as well as the class of vehicle you wish to operate.
Submit your information and pay the DL fee online, then book a slot and visit the RTO office on your scheduled date for scrutiny and biometrics. If you pass your DL test, your driving licence will be issued online. However, if you fail, you must pay the retest fee after 7 days and book another slot for your DL test.
Odisha RTO Code List PDF
Discover the latest Odisha RTO number codes with us. These codes are used to identify the district where a vehicle is registered, and they can be found on the licence plate. For instance, a registration plate might read OD 00AA 0000. Our comprehensive list covers all the district codes, and we even provide a PDF version that you can download for your convenience. What's more, the PDF is also available in Odia. With our help, you can quickly access the information you need about any vehicle registered in Odisha.
Odisha Vehicle Permit Fee
Trucks and buses are greatly aided by having a national permit. They can travel all over India and provide transportation services. This RTO provides essential information regarding the national permit such as how to apply, fees for online payment, required documents, and more.
Permit Related Fees
The Fees in respect of Application for Grant, Renewal, Extension, Counter Signature or Transfer of Permit shall be as follows namely:
Category
Temporary Permit
Permanent Permit
For a goods carriage permit
Rs. 100.00
Rs. 500.00
For a private service vehicle permit
Rs. 100.00
Rs. 500.00
For a stage carriage permit
Rs. 100.00
Rs. 500.00
For a contract carriage permit (other than a Motor Cab)
Rs. 150.00
Rs. 750.00
For a goods carriage permit under National Permit Scheme
Rs. 100.00
Rs. 500.00
For any other permit and for countersignature of permit.
Rs. 100.00
Rs. 500.00
For motor cabs
Rs. 100.00
Rs. 200.00
Odisha Fancy Number
The system for allocating registration numbers in Odisha has been updated. There are now two categories of registration numbers: "Notified Fancy Numbers" and "Other Than Notified Numbers". If you want a number from the "Notified Fancy" category, you'll have to take part in an online auction and pay the fee stipulated in Rule 14 of the OMV Rules from 1993.
For all other registration numbers, they will be allocated on a first-come-first-served basis. However, if you want to reserve/book a number that is not a "Notified Fancy Number", you can do so online by paying Rs. 5,000 for two-wheelers or Rs. 10,000 for other vehicles. The number you want must be within 10,000 digits of the last number assigned in serial order on the date of application and payment.
List of Numbers with the base price for auction are as under
Group
Registration Number
Base Price
I
0001, 0009
Rs.1,00,000/-
II
0002,0003,0004,0005,0006,0007,0008, 0011, 0786, 1111, 1234,7777,9999
Rs.60,000/-
III
1000, 2222, 3333, 4444, 5000, 5555,6666, 7000, 8055, 8888, 9000
Rs.40,000/-
IV
0010, 0012, 0022, 0033, 0055,0066,0070, 0077, 0090, 0099, 0100,0101,0111,0123, 0222, 0333, 0555,0707,0777, 0909, 0999, 1001, 2000,2020,3000, 4000, 5050, 6000, 7007,7700,8000, 8008, 9009, 9090, 9900
Rs.10, 000 for two wheeler and 20,000/- for other vehicles.
Odisha RTO Helpline Number
Contact the Odisha RTO Helpline Number at the State Transport Authority, located on the 6th floor of Rajaswa Bhawan in Chandini Chowk, Cuttack. In addition to the helpline number of 18003451073, you can also reach out via email at [email protected] or by fax at 91-671-2507238. Dealer Point is available during working days from 10 AM to 6 PM. Don't hesitate to reach out for assistance.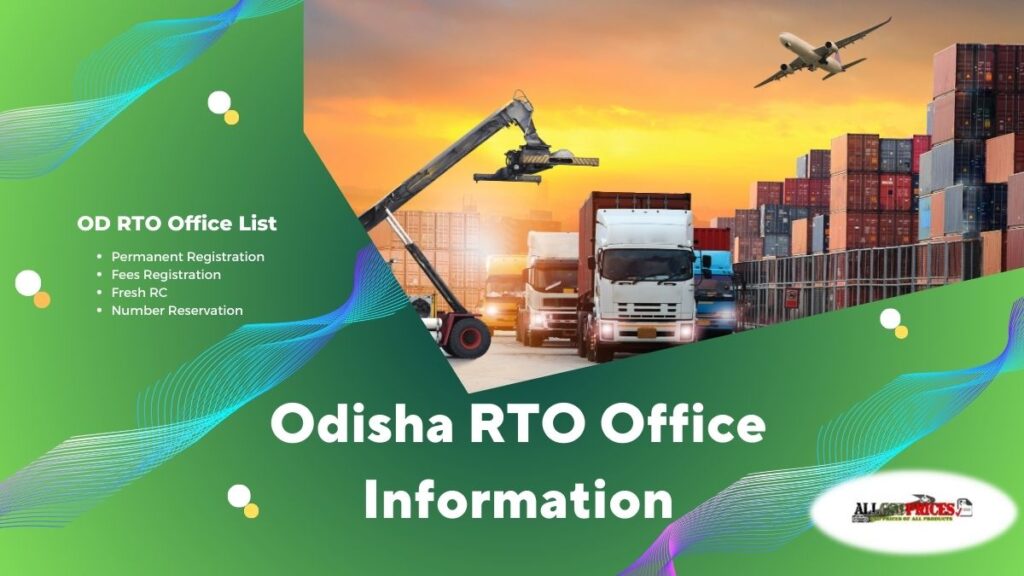 What is the Odisha RTO Code List 2023?
The Odisha RTO Code List 2023 is a comprehensive list of all the Regional Transport Office (RTO) codes in the state of Odisha. This list contains all the necessary information for vehicle registration, driving license, vehicle permit fees and fancy numbers.
What information can I find in the Odisha RTO Code List 2023?
The Odisha RTO Code List 2023 contains information on vehicle registration owners, driving license check, vehicle permit fee, Odisha fancy numbers and Odisha RTO Helpline numbers.
What is the Odisha RTO Helpline Number?
The Odisha RTO Helpline Number is 1800 345 1073. You can call this number for assistance with any queries related to vehicle registration, driving license, vehicle permit fee and fancy numbers.