CSD AFD Canteen Registration Process
All CSD URC Canteen Smart Card customers should be registered for purchasing AFD items from the CSD AFD Portal! The one-time registration is mandatory for getting approval from the CSD AFD Team. All CSD URC Canteen customers are requested to register with their smart card and service details in the CSD AFD portal immediately!
Total of 20 Simple Steps of the Registration Form in AFD.CSDINDIA.GOV.IN
Step No.1: Name (Printed on URC Canteen Smart Card)
Step No.2: Card ID Number (19 Digit alphanumeric number printed on URC Canteen Smart Card)
Step No.3: Card Chip Number (16 Digit number printed on your old URC canteen bill)
Step No.4: Mobile phone number
Step No.5: Employment Status
Step No.6: Department (Organization)
Step No.7: Date of Birth
Step No.8: Date of appointment (Enrollment)
Step No.9: Date of Retirement
Step No.10: Entitlement Category
Step No.11: PPO or Discharge Number (Ex-Servicemen)
Step No.12: PAN Card number
Step No.13: Create a Username
Step No.14: Email ID
Step No.15: Again Email ID
Step No.16: Password
Step No.17: Again Password
Step No.18: Tick mark (I agree with terms of use and privacy)
Step No.19: Enter Captcha
Step No.20: Click Submit Button
CSD AFD Online Registration Approval
After submitting all correct details in the official online portal of afd.csdindia.gov.in for registration, you will get the approval SMS on the registered mobile phone within a week. In case of any problem getting approval from the admin of CSD, please contact us by phone or email. [View contact details]
The Canteen Stores Department AFD Items Online Shopping website sales have started for the month of January 2022 – You can check the latest price list of Cars, Bikes, Scooters, and electronic items for the month of January 2022.
www.csdindia.gov.in Login Registration
Online Sales of CSD Canteen AFD Items Started Through Online Store!
The Canteen Stores Department (CSD) introduces the online sale of AFD Items through its official Online Shopping Website Portal. The official website link is www.afd.csdindia.gov.in.
CSD Canteen started an online sale of AFD (Against Firm Demand) Items such as a Car, Bike, Scooter, AC, Refrigerator, Washing Machine, etc., to all Smart Card Holders.
According to the internal order of MoD (Army) dated 4 December 2020 regarding the online sale in the CSD Canteen, the letter indicated that as part of the automation of CSD, to enhance the user experience and provide ease of transactions to CSD beneficiaries, a website has been developed for online documentation and payment by the beneficiaries.
The registration process is easy. Here is a detailed step-by-step pictorial guide to help you register and log in for the first time.
CSD First-Time Registration in AFD Portal
Step 1: Open the CSD AFD Online website with the direct link given here: afd.csdindia.gov.in
Step 2: Click on the "SHOP NOW" button shown on the Login Webpage.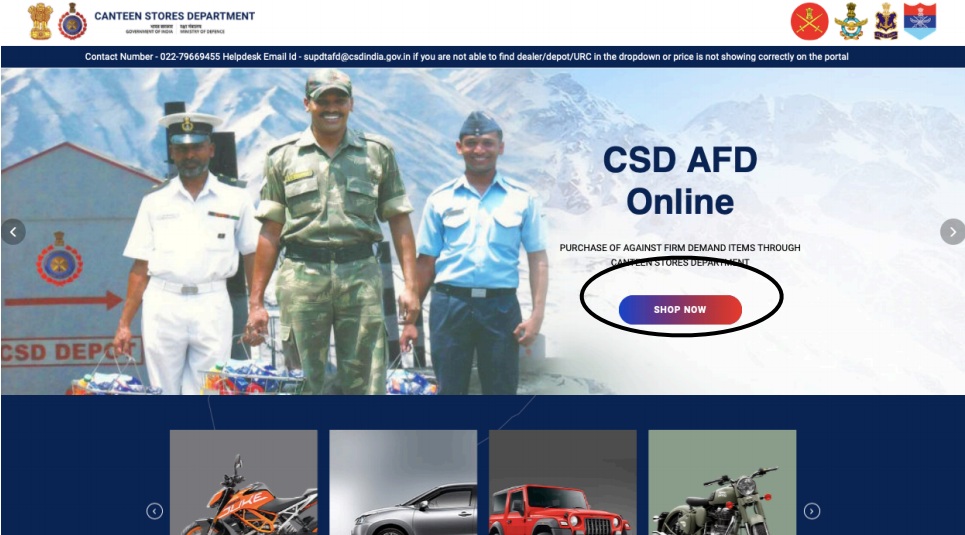 Step 3: Click on "Not a member yet? Register Now". This option enables the
new users to register on the website. Before you start registration, make sure to keep the following things with you:
1. Grocery/ Canteen card
2. Pan card
3. Mobile number for OTP verification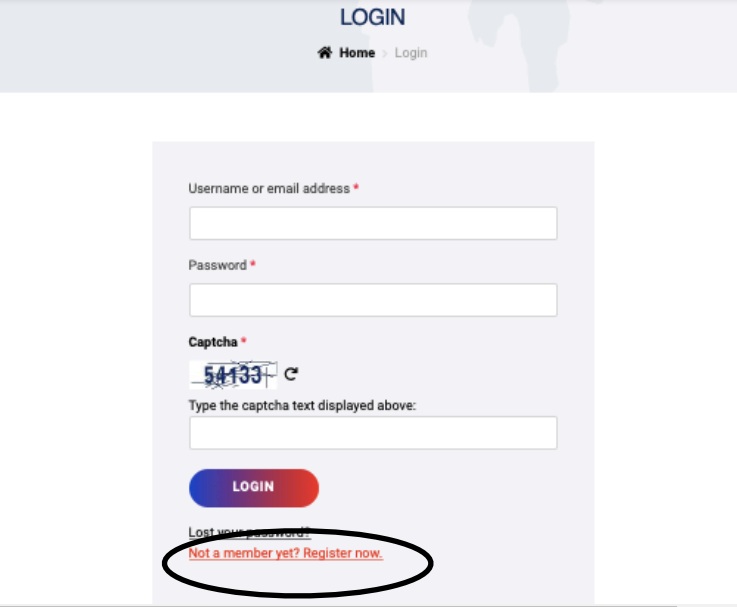 Step 4: Illustrates the registration form. Name, Card ID, and Chip number should be exactly the way they are printed on the Grocery card/ Canteen card. The mobile number will be verified through OTP. After entering the number Click "Send OTP".
If a new user with a username/ grocery card/ PAN number already
exists, an error screen will be displayed. No user can have the same details like Username, e-mail, etc. If the error persists user may contact the help desk.
If the "Date of enrolment/commissioning" is less than 5 years old then users
will not be entitled to buy any products. Once the form is filled, press "Submit". If the form is correctly filled out. The user will get the notification as shown in the image. The user will not be able to log in right away. Post submission admin will verify the details and then grant access. The user will receive the mail as shown in the below image upon form submission
Once the registration is approved, the user will receive a mail like shown in
the below image.

Step 5: After Login, users will be prompted to enter OTP sent on their phones.
www.csdindia.gov.in online booking
AFD CSD Online Portal – Registration and Login Manual PDF Download
How to login in CSD AFD Online Portal?
CSD AFD Online Portal Login page is https://afd.csdindia.gov.in/login/
Once your registration has been approved, you can log in to the portal with OTP.
✓ Check the latest price of your item
✓ Check the dealer nearby you
✓ Check the URC for your convienient
✓ And finally, go for online payment. Pay the amount from your bank account.
AFD CSD App | AFD Category 1 item List | AFD items List | AFD csdindia gov in two-wheeler
How do I order AFD items online?
Very simple, go to the nearest CSD dealer of your selected product and know the details of purchase through CSD online! Get an Availability Certificate from your dealer! Confirm the latest CSD AFD price of the product! The approximate delivery date of your product! That's all. Come and log in to the CSD AFD Portal and follow the steps given above! URC Login Page | URC AFD Login
Why the CSD AFD portal is not opening frequently?
afd.csdindia.gov.in login new registration: If a new customer wants to make a new registration on the CSD AFD portal, please make it in the early morning or late at night peacefully! There will be less traffic in the early morning or late night hours! Due to more traffic, the website is functioning at a slow speed! www.csdindia.gov.in online booking | www.afd.csdindia.gov.in login | www.csdindia.gov.in form