Canteen Stores Department (CSD) Application Forms to Ex-Servicemen for All Regions – Download PDF Application Format
CSD Canteen Card Documents for Ex-Serviceman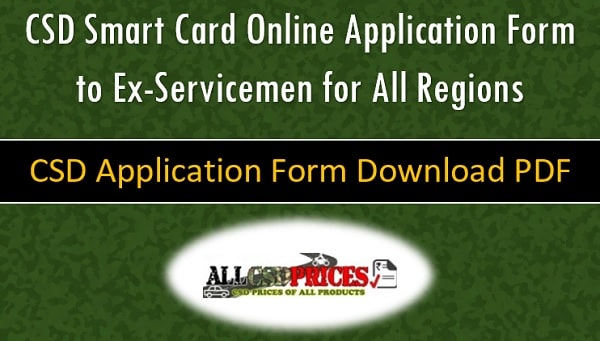 As a welfare measure for Ex-Servicemen, CSD application forms can now be downloaded directly from this website as per various regions. This facility is only for Ex-Servicemen & not for serving personnel. In case you are serving personnel you are requested to approach your dependent URC for the forms.
CSD Canteen Smart Card Rules
Instructions:-
1. This facility of online canteen application forms is meant only for ESM. This service is being provided to make canteen application forms easily accessible to ESM.
2. All other procedures of vetting of documents, submission of application forms, countersignatures, payment of charges shall continue to be effective as before.
3. Please confirm if you are an ESM before proceeding with downloading the canteen smart card application form.
4. Please select the appropriate application form as per the region of your canteen where the application form is being submitted. The regions for the canteen's smart card application form process are North, East, South, West, Central, and Delhi (NCR).
5. Canteens in the following areas fall under Delhi (NCR) for canteen application forms process:-Delhi NCR (including Noida, Ghaziabad, Faridabad, Gurgaon, Manesar, Greater Noida), Meerut, Bahadurgarh, Hapur, Aligarh, Mathura, Agra, Tundla, Mainpuri, Etawah, Palwal.
6. Please download the correct region application form and take a print out on both sides of A4 paper. The reverse side of the application form should also be face up as the front side. Please ensure that the size of the paper, margins, and percentage are not modified. All application forms which are not printed exactly as per format will be rejected.
7. After taking a printout, fillup details and submit them at the nearest canteen as per the existing procedure.
CSD Canteen Smart Card Helpline Number
| | |
| --- | --- |
| Canteen Smart Card Customer Care Number | 2203 – 7120 |
| Canteen Smart Card Customer Care Number | 2203 – 7140 |
| Canteen Smart Card Customer Care Number | 2203 – 7142 |
How to Get Army Canteen Card Ex-Serviceman
Do I have to pay any penalty for making new Smart Card after I have lost the old Card?
(a) Penalties on Loss of Smart Cards Yes, In case of loss of Canteen Smart Card
(Grocery or Liquor) by an individual following penalties will be levied in addition to costs of Smart Card and penalty amount will be merged with the URC profit.
| | | |
| --- | --- | --- |
| Loss Smart Card | Liquor | Grocery |
| First Time | Rs. 500 | Rs. 500 |
| Second & Subsequent Time | Rs. 1000 | Rs. 1000 |
Note. Chairman of the URC may wave off the Penalty depending upon the genuineness of the loss, in exceptional cases.
CSD Canteen Smart Card Application Status Online
Region-Wise CSD Application Forms for Ex-servicemen:-
All online CSD Canteen Smart Card Application Form (PDF Format) applicable only for Ex-Servicemen and Widows.
Lucknow
Allahabad
Jabalpur
Dehradun
Danapur
Ranchi
Bhubaneswar
Bareilly
Ranikhet
CSD Canteen Smart Card
Udhampur
Jammu
Pathankot
Srinagar
Leh
Rajouri
Yol Cantt
Canteen Smart Card Application Form
Kolkata
Silguri
Dimapur
Guwahati
Tejpur
Masimpur
Dinjan
Tenga
Shillong
Imphal
CSD Canteen Smart Card Tracking
Pune
Ahmedabad
Mumbai
Chennai
Jodhpur
Bangalore
Bhopal
Secunderabad
Jaipur
Trivendrum
Vizag
Jhansi
Nagpur
Portblair
Kota
Babina
CSD Canteen Smart Card Enquiry
Delhi
Meerut
Manesar
Mathura
Agra
CSD Smart Card – Renewal
CSD Canteen Smart Card Status Check
Subsidiary Central Police Canteen
Kerala Branch Thrissur – Kerala Police Academy
Kerala Police Canteen Smart Card Application Form – PDF Form Download
Instruction
Photograph single and jointly with spouse and dependent
All photographs to be attested by countersigning authority
Only high resolution photographs with be accepted. Computer (inkjet) printouts/
Photostat photos will not be accepted
One Passport size photograph each (single/ Joint) to be affixed at given box.
Dependents as per existing definition
USE BLOCK LETTERS ONLY. Illegible and incomplete documents can be rejected and applicant would be responsible for the same.
Use Black color ink to fill up forms.
Mode of Payment : By Debit/credit Card (Cost of one card being Rs. 150/-) House No. / Name, Locality/ Area, Post Office, District, Phone / Mobile No.
Smart Card(s) will be issued only to applicant in person due to security reasons.
Proof of Service (Department Pensioner Identity Card/Pension Paper from AG) A Copy of Birth Certificate/ School Leaving Certificate showing date of birth of dependent duly attested by Gazetted Officer.
For Widows Only
i. Personal particulars will be of deceased husband, no photograph.
ii. Single photo of widow and dependent in place of joint photograph