CSD AFD Canteen Electronic and Grocery Items with Code List
Canteen Stores Department (CSD) Military Canteen Products List with catalogue
CSD Canteen Items Code List
CSD Code for Samsung Split AC
67254 – SPLIT AC AR24M (2 TON) 3* MODEL AR24NV3JGMC
67268 – SPLIT AC AR 18M (1.5 TON) 5*
67371 – SPLIT AIR CONDITIONER INVERTER 5 STAR MODEL AR18NVSPAWK 1.5 TON
67378 – INVERTER SPLIT AC 2 TON 3 STAR AR24 SERIES
67377 – INVERTER SPLIT COPPER AC 1.5 TON 3 STAR AR18 SERIES
HP Laptop and Desktop available models in CSD Canteen (Delhi and Pune)
CSD Code for HP Laptop
Please contact the respective depot for price and availability
68009 – SPECTRE X360 13-AE502TU
68008 – SPECTRE X360 13-AE503TU
68007 – HP15-DA0296TU
CSD (Canteen Stores Department) Price List of Electronic Items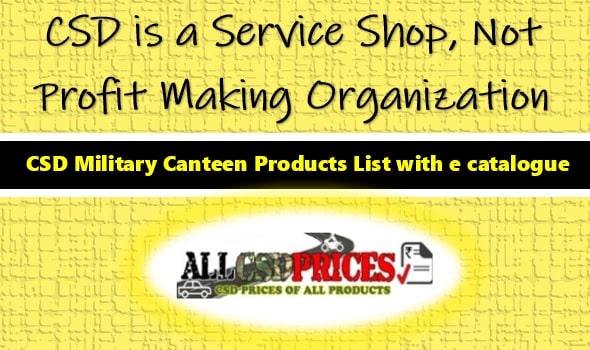 CSD is a Service Shop, Not Profit Making Organization
India's Biggest Chain Store for Serving and Retired Armed Forces Personnel and their Families
Canteen Stores Department (CSD) selling various products (more than 5000) through 3900 Unit Run Canteens located in various parts of India to Army Personnel and their families. CSD gained over 12 million consumers on its prompt service. CSD maintained 34 Depot (Warehouse – Godown) to supply products to all respective Unit Run Canteens.
CSD is the biggest welfare organization serving the personnel of Armed Forces, Ex-Servicemen, and their families.
The main customer of CSD is Army, Navy and Air Force Officers, JCOs, ORs, Ex-Servicemen, Serving and Retired Defence Civilians and Family Pensioners. CSD published the listed products to all URC canteen during the month of January each year through a Pictorial Price-List. The listed products are categorized in CSD Army Canteen as seven segments.
Toilet Soaps, Oral Care, Haircare, Cosmetics, Detergent, Diapers, and Napkins items are under Group-1
Electrical Appliances, Cookers, Crockery, Kitchenware, Sewing Machines and other Household requisites such as Gas Stove, Flask, Casserole, Light Products, and Torch Cell items are under Group-2
Hosiery items, Plasticware, Footwear, Luggage, Undergarments, Helmet, Sunglasses, Tracksuit, Sports Goods and Plastic Furniture items are under Group-3
Wristwatches and Stationery items are under Group-4
Liquor items are under Group-5
Food Stationery and Medicinal items are under Group-6
And last Group-7 items are most attractive among all Personnel called as AFD Items, such as Television, Refrigerators, Washing Machines, Two-wheelers, Cars, Tractors, Cooking Ranges (Ovens and Chimneys), Air Conditioners & Geysers, etc.,
Canteen Stores Department (CSD) Canteen Code List
Against Firm Demand (AFD) Products
AFD products are divided into two categories for the convenience of the customers. AFD items are not stocked in the Depot or URC. Once indent an item by the customer, CSD has arranged to collect the item from the respective dealer through a copy of the local supply order (LS). Car, Bike, Scooter, Television, Washing machines, Refrigerators, Air conditions, and Tractors are available under the Category -1 AFD Items.
The AFD Category -2 items are available in URC Canteen. Geyser, Oven, Sewing machines, Cooking items, Air coolers, Mattress, etc., are directly purchased from the army canteen.
Introduction of New Products in CSD
Initially, the Preliminary Screening Committee will decide to introduce the recommended items in CSD. The committee comprising of representatives of CSD and three Services, nominated by the Services HQ. After negotiation of the price of the product with the manufacturer, the final consideration by the Board of Administration (BOA) chaired by General Manager (GM) CSD.
Unit Run Canteen (URC)
URC Canteen is a linked store between the CSD and customers. The main focus of the URC Canteens is to provide the daily usage products to customers at a price cheaper than the open market. At present, 3794 URC Canteen are functioning across the country.
Online CSD for AFD Items
Purchase of AFD Items (Against Firm Demand Items) through the official website of Canteen Stores Department (CSD). CSD has recently launched an online website for purchasing cars, bikes, scooters, and home appliances. All eligible CSD customers are requested to register with a smart card on this CSD web portal for further transactions. [Click to read more]
CSD Canteen AFD and Non-AFD Items Code List
CSD Code for Samsung Split AC
CSD Code for HP Laptop
CSD Code for Mobile Phones
CSD Canteen Grocery Items Price List
AFD means 'Against Firm Demand' is a consignment between the customer and dealer in the presence of CSD. No-AFD items are classified under direct selling the products to customers by Cash or Card through URC Canteens. There is a limit for AFD and Non-AFD items to purchase in CSD canteen. AFD items are bifurcated according to the price of goods above Rs. 750. [Click to read more]
Check other updates on this topic: