Canteen Stores Department (CSD) Chennai Depot Price List of Toyota car updated 2020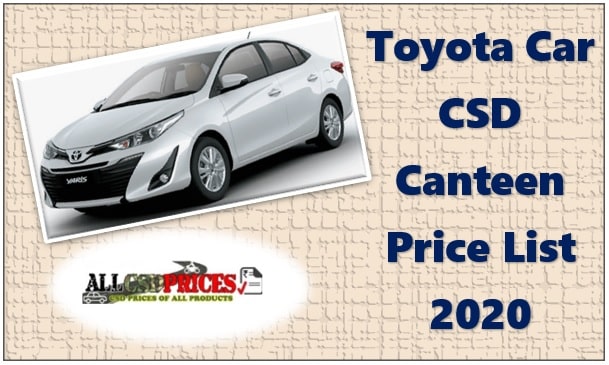 All Variants of Toyota Car CSD Canteen Price List 2020
Only the CSD India Organization decides arbitrarily to add or delete the list of products to sell through CSD Canteen.
We are not sure about the availability of all models (variants) cars selling through in all CSD Depot canteen.
For example, in the Chennai CSD fort canteen, Etios (Petrol and Diesel), Etios Liva, Corolla Altis, Yaris, Fortuner and Innova Crysta only available in particular variants. This list also subjects to change without any notice. All Army Officers and Ex-servicemen are requested to contact your nearest Toyota dealer for availability and latest price list of all variants before indent.
Check also: ALL CSD DEALERS IN INDIA – ADDRESS AND CONTACT DETAILS
The below given detailed price list of all variants is based on Chennai Depot only. Delhi CSD price list also available for Toyota cars.
We are collecting the latest CSD price list of Toyota cars available in Bangalore CSD Depot prices, Hisar Depot, Jaipur Depot, Lucknow Depot, Ahmedabad Depot, and Jammu Depot and publish soon.
Toyota Innova Crysta Chennai CSD Canteen Price List 2020
| | | | |
| --- | --- | --- | --- |
| Code | Model | Price | TCS |
| 64606 | Innova Crysta 2.4G Package 7 STR | Rs. 14,08,996 | 14,090 |
| 64601 | Innova Crysta 2.4G Package 8 STR | Rs. 14,13,435 | 14,134 |
| 64608 | Innova Crysta 2.4G Package 7 STR | Rs.16,83,265 | 16,833 |
| 64610 | Innova Crysta 2.4G Package 8 STR | Rs. 16,87,703 | 16,877 |
| 64780 | Innova Crysta 2.4G Package 7 STR | Rs. 18,47,472 | 18,475 |
| 64778 | Innova Crysta 2.8G Package 7 STR | Rs. 15,34,149 | 15,341 |
| 64779 | Innova Crysta 2.8G Package 8 STR | Rs. 15,38,587 | 15,386 |
| 64781 | Innova Crysta 2.4Z Package 7 STR | Rs. 19,62,859 | 19,629 |
| 64804 | Innova Crysta 2.7 G Package 8 STR | Rs. 14,22,311 | 14,223 |
Toyota Fortuner CSD Canteen Price List 2020
| | | | |
| --- | --- | --- | --- |
| Code | Model | Price | TCS |
| 64943 | Toyota Fortuner Sigma 2.8L AT | Rs. 29,58,057 | 29,581 |
| 64942 | Toyota Fortuner 2wd 2.8L AT | Rs. 27,88,788 | 27,888 |
Toyota Yaris CSD Canteen 2020 Price List
| | | | |
| --- | --- | --- | --- |
| Code | Model | Price | TCS |
| 64791 | Toyota Yaris 1.5G – Suffix VB | Rs. 9,32,782 | |
| 64796 | Toyota Yaris 1.5V SuffixVC | Rs. 10,34,332 | 10,343 |
| 64782 | Toyota Yaris 1.5G CVT-Suffix ZB | Rs. 10,39,676 | 10,397 |
| 64724 | Toyota Yaris 1.5V CVT-Suffix ZC | Rs. 11,41,225 | 11,412 |
| 64786 | Toyota Yaris 1.5VX CVT-Suffix ZD | Rs. 12,45,448 | 12,454 |
| 64799 | Toyota Yaris 1.5J VA | Rs. 8,26,066 | |
| 64806 | Toyota Yaris 1.5J(CVT) Suffix ZA | Rs. 8,82,007 | |
Toyota Corolla Altis CSD Canteen 2020 Price List
| | | | |
| --- | --- | --- | --- |
| Code | Model | Price | TCS |
| 64726 | Toyota Corolla Altis 1.8 J Suffix | Rs. 13,01,109 | 13,011 |
| 64800 | Toyota Corolla Altis 1.8 G Suffix | Rs. 14,43,973 | 14,440 |
| 64801 | Toyota Corolla Altis 1.8 G Suffix | Rs. 15,85,957 | 15,860 |
| 64802 | Toyota Corolla Altis 1.8GL Suffix | Rs. 16,52,981 | 16,530 |
| 64803 | Toyota Corolla Altis 1.8VL Suffix | Rs. 17,73,798 | 17,738 |
| 64805 | Toyota Corolla Altis D-4D J Suffix | Rs. 13,58,350 | 13,584 |
| 64807 | Toyota Corolla Altis D-4D GL Suffix | Rs. 16,98,259 | 16,983 |
Toyota Etios Liva CSD Canteen 2020 Price List
| | | |
| --- | --- | --- |
| Code | Model | Price |
| 64784 | Toyota Etios Liva VX (N5) | Rs. 5,63,848 |
| 64793 | Toyota Etios Liva VX(2D) | Rs. 5,82,650 |
| 64789 | Toyota Etios Liva VXD (2D) | Rs. 6,65,466 |
| 64795 | Toyota Etios Liva VXD (2E) | Rs. 6,84,301 |
Toyota Etios CSD Canteen Price List 2020
| | | |
| --- | --- | --- |
| Code | Model | Price |
| 64783 | Toyota Etios V-Suffix-3R | Rs. 6,33,121 |
| 64785 | Toyota Etios VX-Suffix-3Q | Rs.6,83,271 |
| 64787 | Toyota Etios GD(F)-Suffix-3w | Rs. 6,99,527 |
| 64788 | Toyota Etios VD(m)-SUFFIX-3v | Rs. 7,28,478 |
| 64790 | Toyota Etios VXD(M)-Suffix-3u | Rs. 7,78,478 |
LATEST ELIGIBILITY OF CSD CAR BUYING RULE CHANGES FROM JUNE 2019