Eligibility of CSD Car buying Rule Changes from 1st June 2019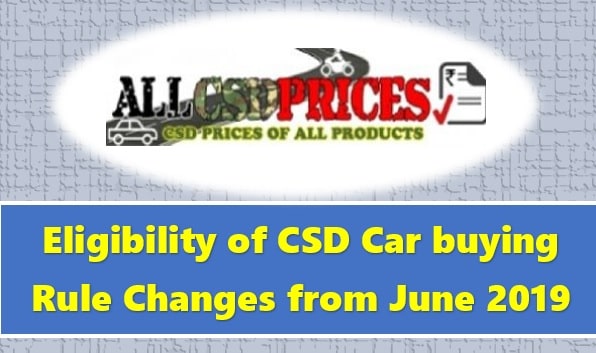 The Canteen Stores Department (CSD) reviewed the norms for buying a car through CSD military canteen to Army Personnel and Civilian Officers from June 2019.
The revised entitlement and periodicity of purchase of a car through CSD Depot Canteen as follows…
Check also: Who are all eligible for purchasing through CSD?
Army Officers Pay Matrix Level 10 to 18
As per the new rule of CSD, Military Personnel with 7th pay commission matrix pay level between 10 to 18 (include retired personnel) are allowed to purchase a car through CSD Army canteen once in 8 years. As well as, the car price up to Rs. 12 lakh (excluding GST) and engine capacity of 2500 CC only allowed to purchase from CSD. The widows of the army personnel are also allowed to buy a car in the same rule.
Army Personnel Pay Matrix Level 3A to 9
Army Personnel with pay matrix level 3A to 9 (including retired and widows) are allowed to purchase a car not exceeding Rs. 5 lakh and 1400 CC engine capacity once during their service period and once after their retirement.
Also read: How to transfer fund to CSD account through NEFT or RTGS?
More Restrictions on Purchase a Car
First car after 6 years of service. The gap between the purchase of 2 cars to be eight years. If the late husband had purchased a car each while in service and after retirement then the widow will not be eligible to buy a car. In case the late husband had purchased only once car through CSD after a gap of eight years the date of the last purchase.
Defence Civilian Officers Pay Matrix Level 11 to 18
Serving Defence Civilian officers with pay matrix level11 to 18 are allowed to purchase a car once in 8 years (Car price up to Rs. 12 lakh and engine CC 2500).
ALL CSD DEALERS IN INDIA – ADDRESS AND CONTACT DETAILS
Check other updates on this topic: