Canteen Stores Department (CSD) Chennai Military Canteen Address and Timings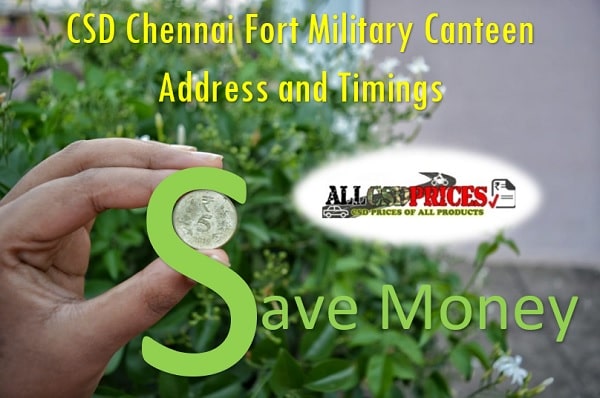 CSD Chennai Fort Military Canteen Address and Timings
The Canteen Stores Department has decided to shift the office of Chennai canteen to Fort St George STN HQ Chennai.
The main Depot of CSD Chennai Military Canteen is located in Chittilapakkam, Chennai and the only office for purchasing AFD items is shifted to STN HQ in St George Fort, Chennai.
No need to go to Depot (Chitlapakkam, Chromepet, Chennai) for purchasing a car, bike, scooter, and any consumable items. For more details contact the office by phone.
CSD Chennai AFD Office Number: 8838529818
CSD Chennai Depot Timings
Monday to Saturday: 9.00 AM to 4.00 PM
Lunch Time: 1.00 PM to 2.00 PM
Wednesday: Depot Closed
Sunday Holiday
What is CSD price?
CSD is the short form of the 'Canteen Stores Department'. The price list of all products displayed in the front of the Depot or URC canteen is the CSD Price List.
Check Chennai Depot Address and Timings: CSD Chennai Military Canteen Address and Timings
More Updates on CSD Canteen Address and Contact Numbers:
Mumbai Head and Regional Office
Western Region – CSD Office of RM (West)
Eastern Region – CSD Office of RM (East)
Southern Region – CSD Office of RM (South)
Northern Region – CSD Office of RM (North)
Central Region – CSD Office of RM (Central)