CSD (Canteen Stores Department) Canteen Open in all Days except Weekly Off and Central Govt Holidays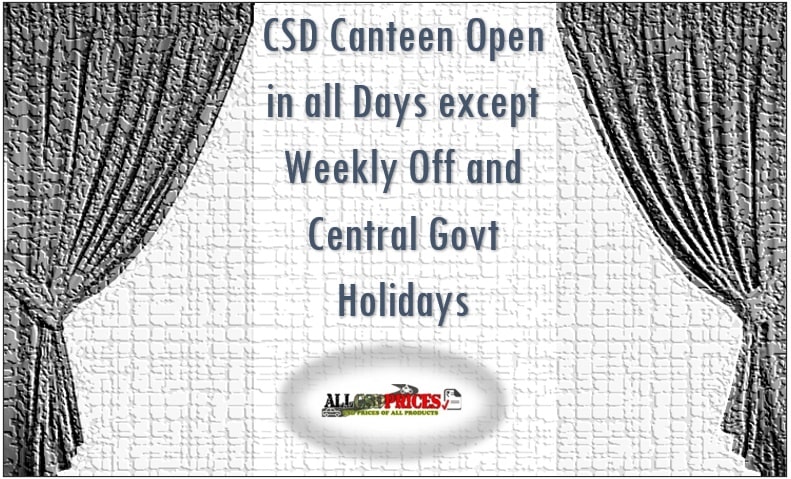 Canteen Stores Department (CSD) has followed the same pattern of holidays observed in Central Government Offices throughout India.
CSD has nearly 3700 Unit Run Canteens and 34 Depots located in various parts of India. CSD followed the instructions given by the Department of Personnel and Training on Holidays, however, the weekly off will be decided by the regional office of CSD.
The opening time of CSD Depot and Unit Run Canteen (URC) is generally 9 am to 9.30 am. The closing time of Depot is at a regular time of 5.30 pm. But, the URCs are functioning in evening hours up to 7 pm to 7.30 pm for customers' satisfaction. URC staff will get more time for lunch hour. However, the total time of opening of URC and Depot not more than 8 hours.
The open and closing time of URC canteens depends upon the weather condition and working hours of personnel.
List of Canteen Stores Department (CSD) Holidays 2022
List of Selected URC Canteens in India
CSD Canteen Chennai Timings
CSD Canteen Race Course Timings
CSD Canteen Chandigarh Timings
CSD Canteen Jaipur Timing
CSD Canteen Pune Timings
Danapur CSD Canteen Timing
Barrackpore CSD Canteen Timing
CSD Canteen Delhi Cantt Timings
Sonipat CSD Canteen Timing
CSD Depot Hisar Timings
CSD Canteen Hyderabad Timings
CSD Canteen Timings Gurgaon
CSD Canteen Timings in Visakhapatnam
Chinkara Canteen
| | |
| --- | --- |
| Address | No: 30, Khatipura Road, Durga Colony, Raval Gi Ka Banda, Hasanpura, Jaipur |
| State | Rajasthan |
| Pin Code | 302026 |
Chinkara Canteen Timings
1 April to 31 October
| | |
| --- | --- |
| Weekdays Morning | 9.30 to 13.00 |
| Weekdays Evening | 14.45 to 17.30 |
| Tuesday | Holiday |
1 November to 31 March
| | |
| --- | --- |
| Weekdays Morning | 10.00 to 13.00 |
| Weekdays Evening | 14.45 to 17.30 |
| Tuesday | Holiday |