Canteen Stores Department (CSD) Price List of Mahindra Scorpio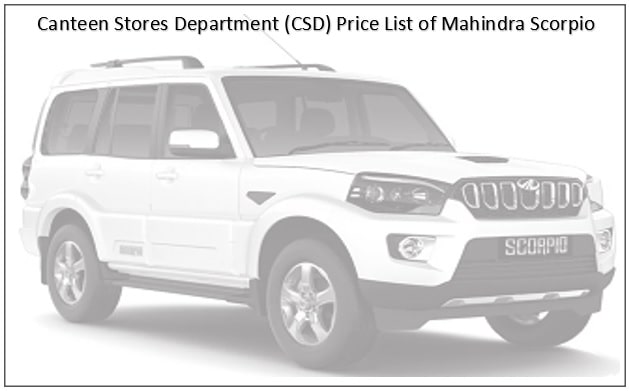 Mahindra CSD Price 2020
The updated price list of Mahindra and Mahindra all models and variants available in CSD Chennai Fort Canteen with code list.
KUV 100 K8 P 6STR: Rs. 5,67,358
KUV 100 K8 D 6STR: Rs. 6,54,813
KUV 100 K2+ P 6STR: Rs. 4,39,558
KUV 100 K2+ F 6STR: Rs. 5,11,557
Click to view all prices
---
Mahindra BS6 Car Available in CSD Canteen
Now, Mahindra Scorpio S9 BS6 available in Canteen Stores Department (CSD). According to the July 2020 Bulletin of CSD, the following Mahindra cars are available in all CSD Depot.
Mahindra Scorpio S9 BS6 in CSD
64496 – MAHINDRA SCORPIO S9 (BSIV)
Select Your Model and get price details:
[catlist name=mahindra orderby=title Tags=mahindra-scorpio numberposts=500]