Latest CSD Toyota Car Price Sep 2017 – Post GST Rates of Delhi Depot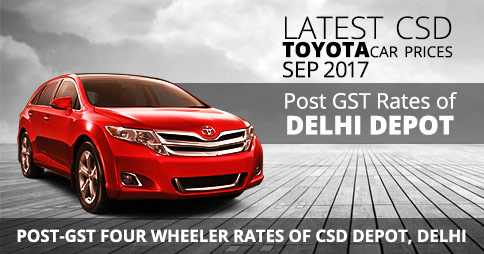 POST-GST FOUR WHEELER RATES OF CSD DEPOT, DELHI
M/s Toyota Kirloskar Motor Pvt. Ltd
No.
Index
Nomenclature
Price
Depot
1
64782 – E
Toyota
Etios G
550,179
DELHI
2
64724 – X
Toyota
Etios G (F)
584,524
DELHI
3
64783 – L
Toyota
Etios V
608,101
DELHI
4
64785 – H
Toyota
Etios VX
661,841
DELHI
5
64786 – I
Toyota
Etios GD (M)
643,325
DELHI
6
64787 – S
Toyota
Etios GD (F)
677,491
DELHI
7
64788 – T
Toyota
Etios VD (M)
701,157
DELHI
8
64790 – X
Toyota
Etios VXD (M)
754,986
DELHI
9
64606 – E
INNOVA
CRYSTA 2.4 G PACKAGE: X, 7 SEATER
1,264,315
DELHI
10
64601 – T
INNOVA
CRYSTA 2.4 G PACKAGE: X, 8 SEATER
1,268,033
DELHI
11
64608 – P
INNOVA
CRYSTA 2.4 V PACKAGE: X, 7 SEATER
1,500,487
DELHI
12
64610 – I
INNOVA
CRYSTA 2.4 V PACKAGE: X, 8 SEATER
1,504,205
DELHI
13
64780-A
INNOVA
CRYSTA 2.4 Z PACKAGE: 7 SEATER
1,662,123
DELHI
14
64778-K
INNOVA
CRYSTA 2.8 G PACKAGE: X, 7 SEATER
1,372,398
DELHI
15
64779-X
INNOVA
CRYSTA 2.8 G PACKAGE: X, 8 SEATER
1,376,116
DELHI
16
64781-D
INNOVA
CRYSTA 2.8 Z PACKAGE: 7 SEATER
1,770,295
DELHI
(Prices are updated in March 2018. Visitors are requested to contact your nearest dealer before indent)
Note :
1. Above CSD Depot selling prices are applicable at Delhi.
2. These rates will vary by Rs.10,000/- (approximately) at different places across the country due to transportation charges, transit insurance charges, etc. incurred by Car Companies.
3. The prices are prior to an increase in Cess as notified by GST Council on 09 September 2017.