People also ask from Google search – A list of question and answer about CSD (Canteen Stores Department)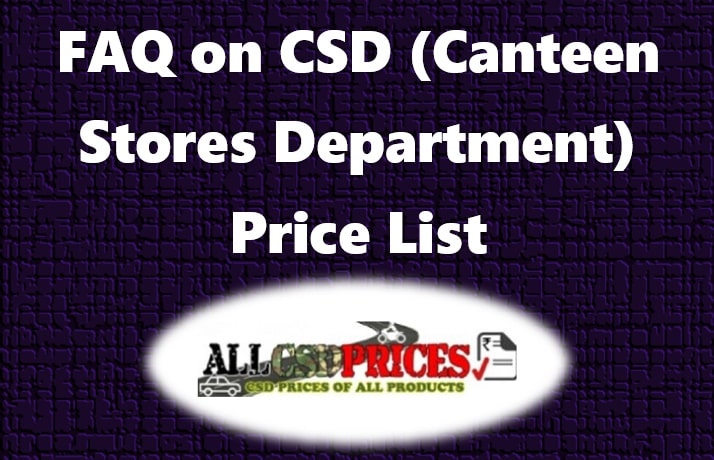 What is CSD Price?
Canteen Stores Department (CSD) is a Central Government organization store selling products to Armed Forces Personnel and Ex-Servicemen at cheaper prices without tax.
What is the CSD Price List?
A list of current rates of all products selling through Canteen Stores Department (CSD) to Armed Forces Personnel and Ex-Servicemen.
Why CSD Items are cheaper?
The reason is only Tax. CSD selling all products through their Depot or URC Canteen without tax. Tax exemption is allowed to CSD only.
How much discount does CSD Canteen car get?
We cannot say the exact amount or percentage of discount on CSD car prices compared to the open market. Approximately 10% to 15% discount may get on all cars.
Who is eligible for CSD Card?
The service personnel and Ex-Servicemen are eligible to get CSD Canteen Smart Card. And also the employees, pensioners, and officers of OFB also eligible to buy goods in CSD.
Is KTM available in CSD?
No. Lot of brand and model available in CSD. But the KTM is not available in the list of products.
What is the CSD price of Vitarz brezza?
The prices of all cars are frequently changed due to many reasons. At present (2020) the Vitara Brezza VDI (64224-H) CSD price is Rs. 7,24,244.
Is a laptop available in the military canteen?
Yes, HP Laptop available in some CSD Depot. Particular models of laptops and Desktop are available in selected CSD Depot.
Who can buy cars from CSD?
Armed Forces Personnel and Officers, Ex-Servicemen, and OFB officers are eligible to buy cars from CSD.
What is the CSD facility?
The facility is buying products with subsidy rates including car, bike, scooter, TV, washing machine, Refrigerator, etc.,
Is the iPhone is available in CSD Canteen?
No. In CSD a limited brand and models only available in particular Depot or URC canteen.
Click to more Questions and Answers about CSD