How to transfer funds to CSD through RTGS in Offline State Bank of India?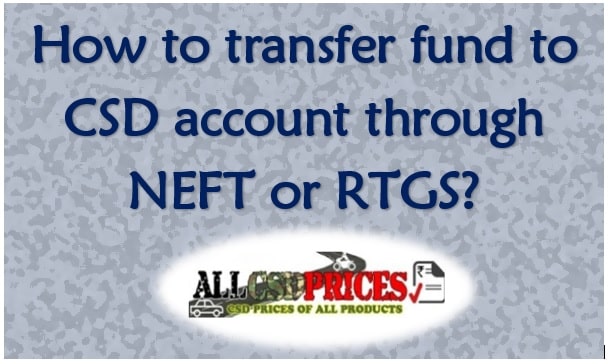 Canteen Stores Department (CSD) has revised the norms of payment for purchasing AFD items recently. Earlier in CSD accept only Demand Draft (DD), now they have accepted the payment through online.
Demand Draft should be taken in favor of the 'Canteen Stores Department Public Fund Account (Main)' in any nationalized banks. There is a lot of time taken and charges also to be paid. Online fund transfer is very simple and saves money also.
In the case of NEFT transfer, first, add your respective Depot bank account number to your NEFT beneficiary list and then pay the amount of selected AFD item.
Check also: CSD Purchase Rules for Car, Bike, Scooter and Air Conditioner, Washing Machine, TV
In the case of RTGS transfer, collect the bank account number of respective Depot with IFSC code. Two bank numbers are available for the amount paid above ten lakh and below ten lakhs. Paid through online banking with the option of RTGS with taking more care.
For example, the CSD Chennai Depot bank account numbers are given below…
State Bank of India
IFSC Code: SBIN0017843
Above 10 lakhs Account Number: 10885904516
Below 10 lakhs Account Number: 10885904527
Offline RTGS SBI Transfer
You have to visit your bank to transfer the money through Real Time Gross Settlement (RTGS). Fill the prescribed form for RTGS with complete details of the bank account and amount. The minimum transaction amount is two lakhs.
Mode of Payment Through NEFT or RTGS for Purchasing CSD AFD Items
Check other updates on this topic: