Mode of Payment Through NEFT or RTGS for Purchasing CSD AFD Items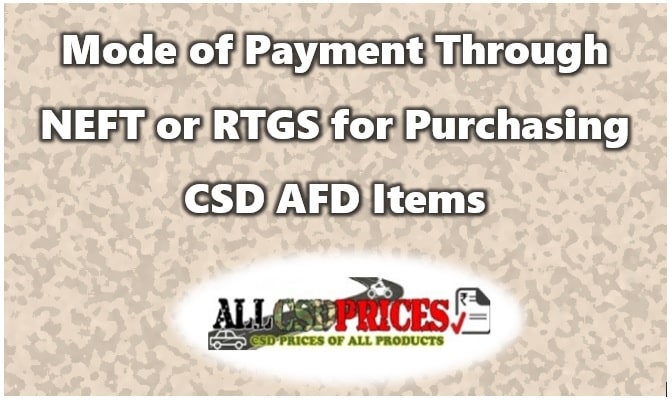 Mode of Payment for Purchasing CSD AFD Items (Car, Bike, Scooter, TV, W/M, AC etc.) from Chennai Depot
GOVT OF INDIA
MINISTRY OF DEFENCE
CANTEEN STORES DEPARTMENT
CWC COMPLEX, CHITLAPAKKAM CHENNAI – 600 064
TELEPHONE: 044 22235438
MODE OF PAYMENT
1) THROUGH/NEFT/RTGS FACOURING "CANTEEN STORES DEPARTMENT PUBLIC FUND ACCOUNT MAIN"
2) BEFORE TRANSFERRING AMOUNT THROUGH NEFT/RTGS ENSURE AND CHECK YOUR ELIGIBILITY.
3) NEFT/RTGS TO BE DONE ONE DAY IN ADVANCE.
4) LETTER FROM BANK IN THEIR LETTERHEAD STATING AMOUNT IS TRANSFERRED FROM INDIVIDUAL'S OWN ACCOUNT AND NOT FROM OTHER/THIRD PARTY ACCOUNT WITH UTR NUMBER.
5) NAME AND UTR NO SHOULD APPEAR IN THE NET BANKING DESCRIPTION.
6) RTGS TRANSFER AND BOOKING OF AFD ITEMS SHOULD BE IN THE SAME MONTH WITHOUT FAIL.
7) TAKE A NOTE OF ABOVE GUIDELINES – ANY DEVIATION WILL RESULT IN COMPLETE WITHHOLDING OF TRANSACTION.
8) SEPARATE INDENT FORM, SEPARATE AMOUNT FOR EACH ITEM SHOULD BE TRANSFERRED TO CSD ACCOUNT BY MEANS OF RTGS/NEFT.
9) CASH DEPOSIT DIRECTLY INTO CSD ACCOUNT IS NOT ALLOWED, ONLY THROUGH RTGS/NEFT THROUGH BANK.
BY ORDER
CANTEEN STORES DEPARTMENT, CHENNAI-64
List of CSD Updates: