AFD CSD Canteen Online Portal New User Registration Application Form 2023
The new user registration process for the AFD CSD Canteen Online Portal will be available starting on 5th January 2023. Once again a new registration process for all CSD Canteen smart card customers starts tomorrow (5th January 2023) in AFD CSD online portal!
The AFD CSD Online Portal Team announced on their official portal that new user registration will begin on 05th Jan 2023, following the incorporation of changes regarding Revised Eligibility/Cost Ceiling Limits for AFD-I items, including Retired Defence Civilians.
Sales through the AFD CSD online portal have been paused temporarily while the system undergoes renovations. In accordance with the portal's instructions, registration will be open from 6 PM to 10 AM daily. As such, sales for January 2023 will commence shortly.
AFD CSD Online Portal New Login 2023
The Armed Forces personnel are often faced with the challenge of having to purchase items such as cars, bikes, scooters, air conditioners, refrigerators, televisions, and washing machines. To make this process easier, the AFD CSD Canteen has launched an online shopping portal for the convenience of the Armed Forces personnel. This portal provides a wide range of products at discounted prices and makes it easier for the personnel to purchase the items they need. The portal also offers a secure payment system and a variety of payment options which ensures that all transactions are safe and secure.
AFD CSD Canteen Online Portal will feature a 'Show Now' page interface in 2023
When the "Shop Now" button is pressed in the AFD CSD Canteen Online Portal, a new warning message with updated terms and conditions will appear as follows:
CSD Important Notes
DEAR BENEFICIARY, PLEASE NOTE THAT W.E.F 01ST OCT 2022, APPLICABILITY OF COMPENSATION CESS ON CSD OUTWARD SUPPLIES ON FOUR WHEELERS & TWO-WHEELERS (AS APPLICABLE) IS BEING IMPLEMENTED BY CSD HO. HENCE THERE WILL A SLIGHT INCREASE IN SELLING COST OF THE VEHICLES DUE TO GST IMPLICATIONS
I agree with Terms and condition and Policy
ACCEPT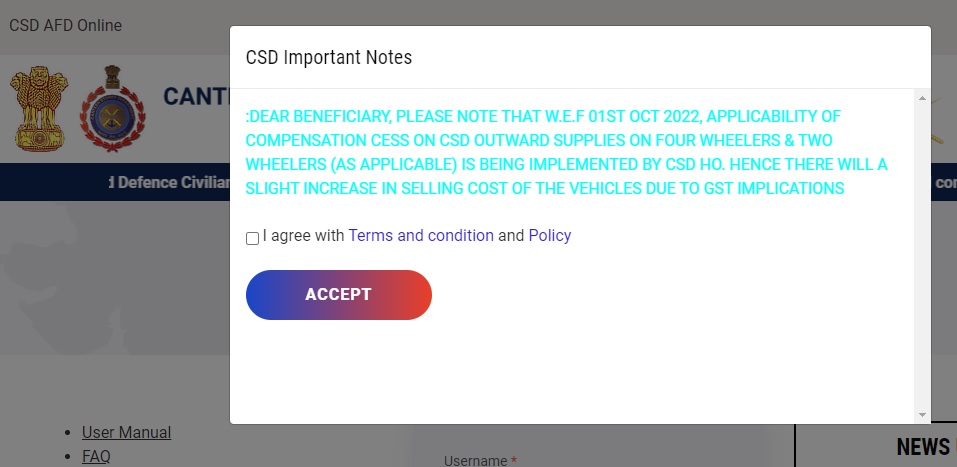 New AFD CSD Online Portal Login Page 2023
Upon acceptance, the new AFD CSD Online Portal Login Page for 2023 will be displayed for entering the web portal.
Username
Password
Captcha
LOGIN
Lost Your Password?
New User Registrations

CSD AFD New User Login Page 2023
Instructions To All Existing Users Registered with AFD CSD Portal
1. To verify email ID.
2. To update the registration form (registration timing: 6:00 PM to 10:00 AM daily).
3. Administrator approval will be granted by the office of DDGCS for any changes made.
4. Existing users can only make a demand after updating the information outlined above.
AFD CSD Email Verification Link 2023
Upon entering login credentials into the CSD AFD online portal, a verification link will be sent to the registered email address.
Canteen Stores Departments
Hello Ekanathan, Thank you for joining here.
Please verify your account by clicking the link below
Activate Account
AFD CSD Activation Approval 2023
Upon clicking the link, the AFD CSD Team will reactivate the account within a period of 24 hours, allowing you to log in with the prior username and password.
Canteen Stores Departments
Ekanathan has successfully joined to Canteen Stores Department
Canteen Stores Departments – Online Portal for buying AFD – 1 Item
CSD AFD HelpDesk Numbers
For registration issues, please contact the CSD AFD HelpDesk at 0120-4699923. Alternatively, SCPL WhatsApp can be reached at 9582250281. The CS Directorate helpline is available Monday to Friday between 10:00 A.M. – 5:00 P.M. and can be contacted at 011-26181892.
AFD CSD Online Portal for Armed Forces Personnel
The AFD CSD Online Portal provides services free of charge. Should any individual request payment for registration, form completion, or obtaining a supply order on the portal, it should be reported immediately to AFD CSD Online Portal Team. Please remain vigilant.