West Bengal RTO State
West Bengal's Regional Transport Office is a vital player in the state's transportation sector. The Ministry of Transport oversees the provision of transportation infrastructure and facilities, both on land and in the air and waterways, under the jurisdiction of the state government. Additionally, the ministry is responsible for establishing an administrative and legal framework to support these activities. One of its key functions is to grant licenses and permits to ensure safe and efficient transport operations.
About West Bengal RTO 2023
In order to uphold the regulations outlined in the Motor Vehicles Act 1988, the West Bengal Transport Department is dedicated to enforcing these provisions throughout the state of West Bengal (WB). The department also enforces the regulations outlined in the Motor Vehicles Taxation Act, 1924 (Amended 1993) and Rules, ensuring the proper collection of taxes. The main objective of the department is to facilitate vehicle registration, grant driving licenses and permits, and enforce motor vehicle tax laws to ensure all vehicles are in compliance.
West Bengal RTO Vehicle Registration Owner Search
| | |
| --- | --- |
| Name of Department | Road Transport |
| Registration Authority | West Bengal Regional Transport Office |
| Identify basic details | WB Vehicle Owner Details |
| Official Website | wb.gov.in |
| Registration Details | West Bengal RTO Code List 2023 |
WB RTO Vehicle Owner Details
Looking up vehicle registration information in West Bengal? The Regional Transport Office is your go-to source for all transportation-related matters in the state. Their aim is to ensure order and safety in the sector by providing guidance and necessary documentation for safe vehicle operation. In addition, the transport department conducts a range of courses to educate people on traffic regulations and keep them secure. In South and South-Western Bengal, the South Bengal State Transport Company (SBSTC) offers transportation services, while the West Bengal State Transport Company (WBTC) handles transportation in Kolkata and the surrounding suburbs. The North Bengal State Transport Corporation (NBSTC) operates transportation services in the districts of North Bengal.
WB RTO List 2023
In the year 2023, the list of the West Bengal RTO is of utmost importance. It is the responsibility of the transport department in West Bengal to monitor and regulate transportation and traffic within the state. The RTO has a vital role in achieving this objective by implementing traffic laws and directives while also making certain that vehicles are lawfully registered. Consequently, the RTO aids in creating safer roads by ensuring that drivers comply with regulations and understand their duties when driving a car. Moreover, the RTO is accountable for conducting regular safety and roadworthiness inspections and tests on vehicles.
West Bengal driving licence check 2023
In 2023, you can conveniently download your West Bengal driving license through two methods: online and offline. To get started with the process, you can choose the method that suits you best. If you're a resident of West Bengal, applying for a driving license is now easier than ever with the introduction of digital driving licenses. This blog post will guide you on how to apply and download your driving license in PDF format so that you can confidently hit the road. Before applying, take note that there are requirements that you need to meet. However, the process is simple and straightforward. So, if you're looking to obtain a driving license in West Bengal, this post provides all the essential information you need to know.
Driving Licence Online Apply in West Bengal fees 2023
If you're planning to hit the roads of West Bengal, you better make sure you have a valid driving license. Don't worry, applying for one is a piece of cake! Well, kind of. First off, you need to be 18 years or older to be eligible.
Then, head to the Regional Transport Authority (RTA) office or West Bengal transport department website to grab a copy of the application form. Fill it out and gather all necessary documents, including proof of identity and residency, some snazzy photographs, and a medical certificate. With all that done and dusted, you'll be cruising down the streets in no time! Just don't forget to buckle up.
After submitting your application, you'll need to take a written test to assess your knowledge of traffic rules and regulations. If you ace the written test, you'll then be invited to take a practical driving test. If you pass both tests with flying colors, you'll be granted your driving license without any further delay.
It should be noted that a learner's licence will cost you ₹150/-, whereas the driving test will set you back ₹300/-. Once you've obtained your driving license, it will cost ₹200/- to renew it. Should you require an International Driving Permit, that will cost a bit more at ₹3,000/-.
West Bengal RTO Office Contact Number 2023
In West Bengal, it is possible to reach the RTO through their toll-free number in the year 2023. The RTO is located at Paribahan Bhavan – I, 12, R.N. Mukherjee Road, Kolkata-700001. For any inquiries, you can contact them at 033-2262-7274.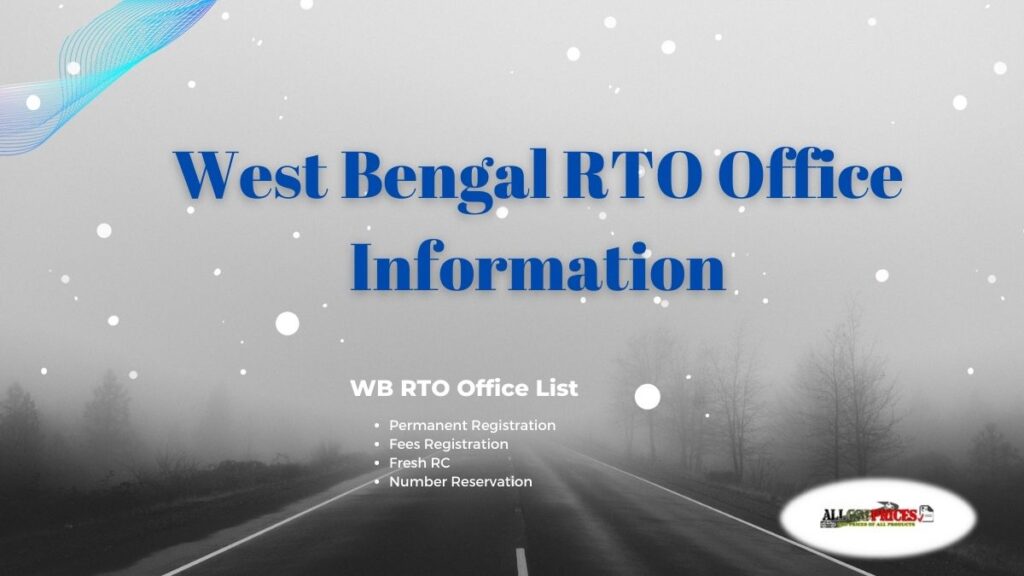 What is West Bengal RTO Code List 2023?
West Bengal RTO Code List 2023 is a comprehensive list of vehicle registration codes, driving license information and other relevant data pertaining to the state of West Bengal for the year 2023.
What information can I find in West Bengal RTO Code List 2023?
The list includes vehicle registration codes, driving license information, RTO toll free numbers, driving license online application fees, and other relevant data pertaining to the state of West Bengal for the year 2023.
How do I access the West Bengal RTO Code List 2023?
The list is available for download from our website. You may also access it through our mobile application.