Canteen Stores Department (CSD) Military Canteen Price List – Car Price 2019 pdf download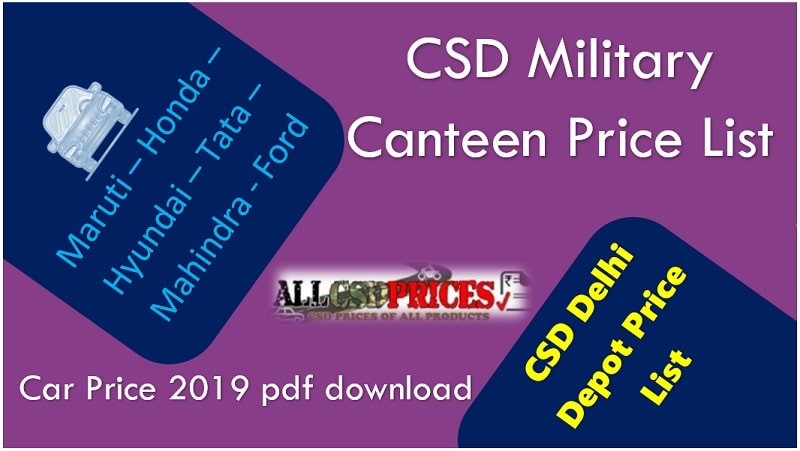 CSD Canteen Car Price List 2019 Maruti Suzuki, Hyundai, Honda
Canteen Stores Department (CSD) decided to restrict the norms for purchasing vehicles to Defence Forces Personnel from military canteens. In the middle May 2019, CSD has stopped to issue indent for vehicles and revised the entitlements of terms and conditions for buying vehicles to eligible customers.
The big change from the earlier terms, Army Officers can buy a car would be permitted once in 8 years from CSD Canteen. It should be applicable upto 2500 CC engine capacity cars only.
All eligible CSD Customers are requested to your Head of Department or your nearest dealer for more detail.
Check also: Eligibility for purchase of Car or Bike through CSD
Maruti Suzuki CSD Canteen Car Price List 2019
Maruti Dzire Delhi CSD Car Price List 2019
64065 – Dzire VDI: Rs. 6,41,874
64067 – Wagon R VXI+(O): Rs. 4,13,585
64068 – New Swift VDI: Rs. 5,85,597
64069 – New Swift LDI: Rs. 5,08,076
64070 – Vitara Brezza ZDI+: Rs. 8,83,132
64071 – Celerio X VXI: Rs. 4,00,253
64072 – Wagon R VXI (M): Rs. 3,72,143
64075 – Vitara Brezza ZDI: Rs. 7,98,705
64076 – Celerio ZXI (O): Rs. 4,54,272
64080 – Dzire ZDI: Rs. 6,97,250
Maruti Swift Delhi CSD Car Price List 2019
65209 – Maruti Ignis Alpha Petrol AMT – Rs. 6,13,045
64222 – EECO 5 STR With A/C – Rs. 3,47,343
64224 – Vitara Brezza VDI – Rs. 7,44,553
64226 – Omni 8 STR MPI STD BSIV Nonmet – Rs. 2,50,224
64229 – Ertiga ZDI Smart Hybrid – Rs. 9,23,330
64230 – Alto 800VXI(O) (M) – Rs. 2,89,068
64231 – Dzire LDI – Rs. 5,64,118
64233 – Alto 800 LXI N/MET BS IV – Rs. 2,64,642
64234 – New Swift ZXI AGS – Rs. 5,99,867
64236 – Alto K10 VXI Non Met – Rs. 3,14,883
Check also: Car or Bike Procedure to buy in CSD Canteen
Maruti Celerio Delhi CSD Car Price List 2019
64239 – Celerio ZXI AMT: Rs. 4,45,220
64240 – Wagon R VXI-Non Met: Rs. 3,68,816
64241 – Wagon R VXI+(M): Rs. 3,97,685
64242 – Wagon R LXI Non Met: Rs. 3,50,552
64243 – New Swift VXI: Rs. 5,02,620
64244 – Ertiga ZXI Smart Hybrid: Rs. 7,97,416
64245 – New Swift ZXi: Rs. 5,57,785
64246 – New Swift LXI (O): Rs. 4,22,977
64284 – Alto K10 VXI AMT (O) Non Met: Rs. 3,61,476
64286 – Alto K10 VXI (M): Rs. 3,18,211
Maruti Ertiga Delhi CSD Car Price List 2019
64287 – Alto K10 LXI(NM) – Rs. 2,99,957
64288 – Celerio X ZXI (O) Non-Met – Rs. 4,71,562
64291 – Alto 800 VXI BS IV Met – Rs. 2,83,747
64292 – Alto 800 VXI Non-Met – Rs. 2,80,420
64293 – Alto 800 LXI BS IV Met – Rs. 2,67,969
64298 – Vitara Brezza ZDI+AGS – Rs. 9,27,980
64299 – Omni MPI STD BS IV N/MET – Rs. 2,48,714
64300 – Dzire ZXI AGS – Rs. 6,55,849
64304 – Wagon R VXI AGS (M) – Rs. 4,14,190
64305 – Wagon R VXI (O) (M) – Rs. 4,01,374
Also check: Contact Details and Office addresses of all CSD Depots in India
Maruti Vitara Brezza Delhi CSD Car Price List 2019
64306 – Celetio X VXI AGS – Rs. 4,34,277
64317 – Dzire ZDI AGS – Rs. 7,39,406
64319 – Alto 800 VXI With Air Bag NM – Rs. 2,85,740
64321 – Alto K10 VXI (O) Non Met – Rs. 3,32,748
64323 – Alto K10 VXI (O) (M) – Rs. 3,35,807
64324 – Celerio LXI (O) – Rs. 3,74,672
64325 – Alto K10 VXI AMT (O) (M) – Rs. 3,64,803
64326 – Celerio VXI (O) – Rs. 4,02,914
64327 – Celerio VXI AMT (O) – Rs. 4,36,937
64328 – Celerio ZXI AMT (O) – Rs. 4,60,539
64329 – Dzire VXI AGS – Rs. 6,00,569
64333 – Dzire VDI AGS – Rs. 6,84,031
Maruti Baleno Delhi CSD Car Price List 2019
64334 – Dzire ZDI+ – Rs. 7,77,741
64338 – Vitara Brezza ZDI AGS – Rs. 8,43,552
64339 – Vitara Brezza VDI AGS – Rs. 7,89,400
64340 – Ertiga LDI Smart Hybrid – Rs. 7,83,812
64341 – Ertiga ZDI+ Smart Hybrid – Rs. 9,69,581
64342 – Tour S Diesel (Swift Dzire Old) – Rs. 8,06,100
64343 – Ertiga ZXI+ Smart Hybrid – Rs. 8,43,669
64346 – Dzire ZDI +AGS – Rs. 8,19,897
64348 – New Swift +AGS – Rs. 6,29,066
Maruti Alto K10 Delhi CSD Car Price List 2019
64349 – New Swift ZDI+ – Rs. 7,12,258
64350 – New Swift VDI AGS – Rs. 6,27,753
64351 – New Swift VXI AGS – Rs. 5,44,701
64356 – Wagon R VXI AGS Non Mettalic – Rs. 4,10,862
64359 – Vitara Brezza ZDI + Dual – Rs. 8,83,416
64352 – Celerio X ZXI – Rs. 4,21,950
64354 – Wagon R VXI (0) Non -Met – Rs. 3,98,047
64357 – Wagon R VXI (0) AGS(0) Non Met – Rs. 4,40,093
64712 – New Swift ZDI AGS – Rs. 6,83,012
Also check: All CSD Dealers in India: Address and Contact Details
Maruti Eeco Delhi CSD Car Price List 2019
64713 – Celerio VXI AMT – Rs. 4,23,068
64714 – Eeco 7 Seater STD Met Bsiv – Rs. 3,38,274
64715 – Ertiga VXI Smart Hybrid – Rs. 7,22,670
64716 – New Swift ZDI – Rs. 6,40,856
64717- Ertiga VDI Smart Hybrid – Rs. 8,48,583
64719 – Celerio VXI – Rs. 3,89,044
64720 – Celerio ZXI – Rs. 4,11,197
64062 – Maruti Dzire VXI – Rs. 5,58,488
Maruti New Swift Delhi CSD Car Price List 2019
64063 – Maruti Dzire ZXI – Rs. 6,13,767
64064 – Maruti Dzire LXI – Rs. 4,80,621
64330 – Maruti Dzire ZXI+ – Rs. 6,94,118
64332 – Maruti Dzire ZXI+ AGS – Rs. 7,36,199
Also check: CSD Price List of Royal Enfield Classic
Honda CSD Canteen Car Price List 2019
Honda City CSD Price List
64816-L City 1.5 S MT(i-VTEC)-Base: Rs. 7,56,033
64142-A City 1.5 SV MT(i-VTEC)-Base: Rs. 8,48,086
Honda Amaze CSD Price List
64765-S Amaze 1.2 S MT(i-VTEC)-Base: Rs. 5,23,564
64831-S Amaze 1.2 SX MT(i-VTEC)-Base: Rs. 6,20,747
Also check: CSD Price List of Honda Activa
Hyundai CSD Canteen Car Price List 2019
CSD Price of Active i20 Car in Chennai Canteen 2019
CSD Price of Grand  i10 Car in Chennai Canteen 2019
Tata CSD Canteen Car Price List 2019
Tata Nano CSD Price List
NANO XE GenX (64529-E): Rs. 1,97,455
NANO XM CNG (64551-E): Rs. 2,48,987
Tata Tiago CSD Price List
64555-Y Tiago XB 1.05 D: Rs. 341,812
64617-E Tiago XE 1.05 D: Rs. 386,217
Ford CSD Canteen Car Price List 2019
Ford Figo CSD Price List in Delhi
64872-P Figo 1.2P Titanium MT: Rs. 4,89,137
64873-H Figo 1+.2P Titanium+ MT: Rs. 5,34,425
Ford Ecosport CSD Price List in Delhi
64103-H Ecosport 1.5P Trend: Rs. 6,96,564
64847-D Ecosport 1.5P Titanium MT: Rs. 7,99,075
Mahindra CSD Canteen Car Price List 2019
CSD Mahindra KUV 100 Car Price List in Delhi
64586-P KUV 100 K 8 PETROL: Rs. 533,486
64651-L KUV 100 K 8 DIESEL: Rs. 616,122
CSD Mahindra XUV Car Price List in Delhi
64877-K XUV 500-W10FWD AT: Rs. 1,438,336
64871-L XUV W10 AWD: Rs. 1,459,177
Maruti Suzuki Delhi and Chennai Authorized Dealer List 2020
Maruti Suzuki Delhi and Chennai Price List 2020
List of Honda Car On-Road Price in 2019
List of Hyundai Car On-Road Price in 2019