All Armed Forces Personnel should fill the application form (Click to view in PDF Format) and get approval from their Head of Department. The personal details to be given in the application form are as follows:
Personal Number
Identity Card Number
Rank & Designation
Name of Applicant
Unit/Formation & Address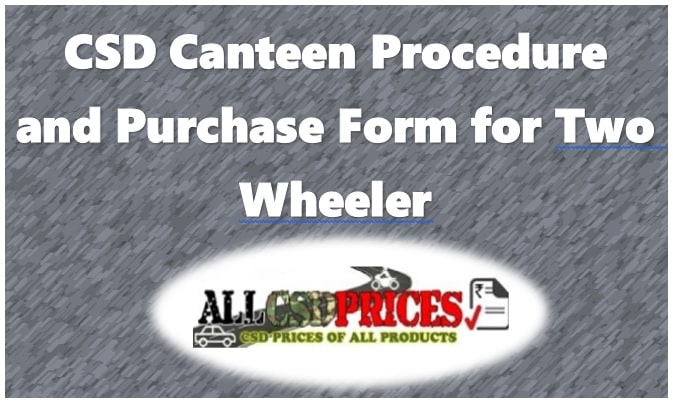 GUIDELINES FOR PURCHASE OF FOUR AND TWO WHEELERS & AFD-I ITEMS THROUGH CSD
Customers who wish to purchase 4 wheelers through the CSD network must obtain Special Sanction from the office of Deputy Director General Canteen Services (DDGCS), QMG Branch, New Delhi. This can be done in four simple steps:
Fill in the prescribed application form (see link) and have the same countersigned by the appropriate authority.
Obtain an Availability Certificate for the vehicle you want to purchase from the dealer authorized by CSD.
Submit the application form duly filled and completed in all respect at the concerned CSD Depot along with the Availability Certificate and payment in the form of Demand Draft or RTGS.
Demand Draft to be drawn in favor of "Canteen Stores Department Public Account (Main)" from any Nationalized Bank payable at the station of CSD depot. See the list of Banks notified for this purpose.
Procedure and new indent form to buy two-wheeler from CSD canteen
After verification of these documents CSD Depot will issue you the following:
Official Receipt for the payment made.
Local Supply Order on the dealer/company for the vehicle
Authority Letter for collection of the vehicle
Sale certificate (Applicable for 4/2 wheelers only)
You should then submit these documents to the dealer on whom the Local Supply Order is issued. The dealer will give the delivery of the vehicle as per the waiting period of the vehicle.
Please make payment for Registration & Insurance to the dealer.
If you choose to buy any extra accessories, please pay for these separately.
Please note that you do not need to make any payment on account of CSD handling charges/Logistics charges etc. to the dealer.
ALL CSD DEALERS IN INDIA – ADDRESS AND CONTACT DETAILS
Check other CSD updates on this topic: