Uttar Pradesh RTO State
Uttar Pradesh is home to the Transport Commissioner's Organisation, also known as RTO, which deals with multiple transport-related matters. The RTO is responsible for issuing driving licenses, registering motor vehicles, granting and renewing permits, collecting taxes and fees, and enforcing the Motor Vehicles Act of 1988. This organization has a significant presence in the state, with 6 zonal, 19 RTO, and 77 ARTO offices located throughout. The RTO has been making progress in enforcing road safety regulations, with its headquarters situated in Lucknow.
About Uttar Pradesh RTO 2023
The Uttar Pradesh RTO 2023 is a topic of great importance. The establishment of the Uttar Pradesh State Road Transport Corporation (UPSRTC) on June 1, 1972 marked a significant moment in the state's transportation history. Its purpose was to offer top-notch road transport services to the residents of the state in an economical and efficient manner in compliance with the Road Transport Act of 1950. The corporation operates through 20 regional offices, 115 bus depots, and 301 bus stations, making it a force to be reckoned with in the transportation industry.
Uttar Pradesh RTO Vehicle Registration Owner Search
| | |
| --- | --- |
| Name of Department | Road Transport |
| Registration Authority | Uttar Pradesh Regional Transport Office |
| Identify basic details | UP Vehicle Owner Details |
| Official Website | uptransport.upsdc.gov.in |
| Registration Details | Uttar Pradesh RTO Code List 2023 |
UP RTO Vehicle Registration Search
In order to conduct a search for Uttar Pradesh vehicle registration numbers, it is essential for the purchaser to complete the necessary registration formalities at the time of purchase. The dealer will take care of all registration-related procedures, and the purchaser will need to provide specific documents to complete the vehicle registration.
Uttar Pradesh Document for Registration of Motor Vehicles
To register your motor vehicle in Uttar Pradesh, there are several requirements that must be met. These include having a valid insurance certificate, providing proof of address as per the Central Motor Vehicle Rules of 1989 and UP Motor Vehicle Rule of 1998, and having a sale certificate in form 21.
If you are registering an ex-army vehicle, you will also need to provide an original sale certificate from the concerned authorities in form 21. Additionally, you must have a roadworthiness certificate in form 21, form 22A from the bodybuilders, and form 22B bus body fabricator.
For imported vehicles, a custom clearance certificate is necessary, along with any relevant licenses and bonds. You must also pay the appropriate fee as specified in rule 81 and provide proof of citizenship, legal presence in India, and residence (if applicable). Finally, you must ensure that your vehicle is fitted with a Fastag as specified in rule 138A.
UP RTO Code List 2023
The Department of Transport Commissioner in Uttar Pradesh is a well-organized system with numerous officials working under the Head. Six Additional Transport Commissioners and Six Deputy Transport Commissioners are responsible for ensuring smooth operations. Each Deputy Transport Commissioner oversees a specific region, with various RTO officers under their command. For instance, Lucknow has four RTO officers, Varanasi has four, Agra has three, Kanpur has three, Meerut has three, and Bareily has two. Additionally, every RTO office maintains a group of ARTO offices in UP, which are listed below.
Lucknow, Uttar Pradesh is home to several RTO and ARTO offices. These offices are located in various areas, including UP-32 T P Nagar and UP-32A Transgomti in Lucknow. Additionally, there are offices in UP-35 Unnao, UP-33 Raybareli, UP-34 Sitapur, UP-31 Lakhimpur, and UP-30 Hardoi. If you need assistance with any vehicle-related services or have any questions, be sure to visit one of these locations.
| | |
| --- | --- |
| Saharanpur RTO | UP-11 |
| Muzaffarnagar | UP-12 |
| Bulandshahar | UP-13 |
| Ghaziabad | UP-14 |
| Meerut RTO | UP-15 |
| Noida | UP-16 |
| Baghpat | UP-17 |
| Shamli ARTO | UP-19 |
| Bijnor | UP-20 |
| Moradabad | UP-21 |
| ARTO Office Rampur | UP-22 |
| Jpnagar | UP-23 |
| Badaun | UP-24 |
| Bareilly | UP-25 |
| Pilibhit | UP-26 |
| Sahjahanpur | UP-27 |
| Hardoi | UP-30 |
| Lakhimpur Kheri | UP-31 |
| Transport Nagar RTO Lucknow | UP-32 |
| Raibareilly | UP-33 |
| Sitapur | UP-34 |
| Unnao | UP-35 |
| Amethi ARTO | UP-36 |
| Hapur | UP-37 |
| Sambhal ARTO | UP-38 |
| Bahraich | UP-40 |
| Barabanki ARTO | UP-41 |
| Ayodhya RTO | UP-42 |
| Gonda | UP-43 |
| Sultanpur | UP-44 |
| Akbarpur Ambedkar Nagar | UP-45 |
| Shravasti | UP-46 |
| Balrampur | UP-47 |
| Azamgarh RTO | UP-50 |
| Basti RTO | UP-51 |
| Deoria | UP-52 |
| Gorakhpur RTO | UP-53 |
| Mau | UP-54 |
| Siddharth Nagar Naugarh | UP-55 |
| Maharajganj | UP-56 |
| Padrauna Kushi Nagar | UP-57 |
| Sant Kabir Nagar | UP-58 |
| Ballia | UP-60 |
| Ghazipur | UP-61 |
| Jaunpur | UP-62 |
| Mirzapur RTO | UP-63 |
| Sonbhadra | UP-64 |
| Varanasi RTO | UP-65 |
| Bhadohi SANT RAVIDAS NAGAR | UP-66 |
| Chandauli | UP-67 |
| Prayagraj RTO | UP-70 |
| Fathehpur | UP-71 |
| Pratapgarh | UP-72 |
| Kaushambi | UP-73 |
| Kannauj | UP-74 |
| Etawah | UP-75 |
| Farrukhabad | UP-76 |
| Kanpur Dehat | UP-77 |
| Kanpur Nagar | UP-78 |
| Auraiya | UP-79 |
| Agra RTO | UP-80 |
| Aligarh RTO | UP-81 |
| Etah | UP-82 |
| Ferozabad | UP-83 |
| Mainpuri | UP-84 |
| Mathura | UP-85 |
| Hathras | UP-86 |
| Kasganj Kashi Ram Nagar | UP-87 |
| BandaRTO | UP-90 |
| Hamirpur Up- | UP-91 |
| Orai | UP-92 |
| JhansiRTO | UP-93 |
| Lalitpur | UP-94 |
| Mahoba | UP-95 |
| Chitrakoot | UP-96 |
| Mahanagar ARTO Lucknow | UP-321 |
Uttar Pradesh Driving Licence Download 2023
To obtain a driving license in Uttar Pradesh, one must first hold a valid learner's license for at least 30 days. The application process can be completed through the website sarathi.parivahan.gov.in do or at a Jan Sewa Kendra. The application involves four steps: filling out personal information, uploading required documents (address proof and learner's license), paying the fee, and booking a test slot. Once these steps are completed, applicants must print out their application form, fee receipt, and slot booking receipt, as well as bring a photocopy of their address and learner's license to the designated office for document scrutiny and biometric capturing. After this, applicants must pass the driving skill test. If unsuccessful, they can pay the test fee again after one week to retake the test. Successful applicants will receive their driving license at the address provided during the application process, approved by the licensing authority.
Important Links:
Uttar Pradesh Required Documents for Driving License
To obtain a driving license, a set of necessary documents must be submitted. These include a duly filled Form No. 2, which can be conveniently completed online by the applicant. In addition to this, a passport-sized photograph and signature must be uploaded while filling out the form. As per Rule 32, the requisite fees must also be paid. Furthermore, proof of address must be provided in compliance with the specified rule for filling out the form.
Driving license Online Apply in UP fees 2023
The cost of obtaining a driving license varies depending on the class of vehicle. If you're looking to obtain a license for a motorcycle or light motor vehicle, the total fee comes to Rs 700, which includes a test fee of Rs 300, a DL issue fee of Rs 200, and a smart card fee of Rs 200. However, if you wish to obtain a license for both a motorcycle and a light motor vehicle, the total fee comes to Rs 1000. This higher price is due to the increased test fee of Rs 600, along with the standard DL issue fee of Rs 200 and smart card fee of Rs 200.
RTO Toll-Free Number UP 2023
Looking to get in touch with the Uttar Pradesh Transport Department? The Office of the Transport Commissioner can be reached at Tehri Kothi, M.G. Road in Lucknow. If you prefer email, send a message to [email protected]. For urgent inquiries, dial the Transport Helpline at 1800 1800 151. If you're tracking your driving license, call the dedicated helpline at 1800 572 3363. And if you need to send a fax, the number is 0522-2629235.
Important Links: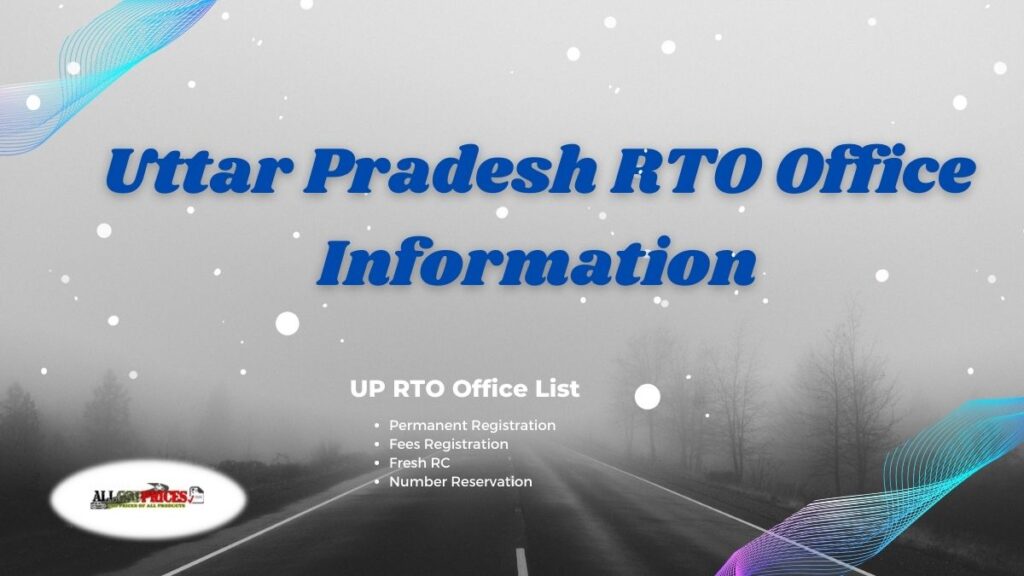 What is the Uttar Pradesh RTO Code?
The Uttar Pradesh RTO Code is a list of Vehicle Registration and Owner Details for UP RTO numbers UP01 to UP96.
How can I access the Uttar Pradesh RTO Code?
The Uttar Pradesh RTO Code is available online.
Is there a toll-free number for the Uttar Pradesh RTO Code?
Yes, the toll-free number for the Uttar Pradesh RTO Code is 1800 572 3363.